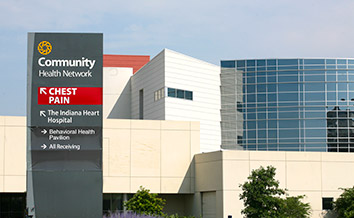 Community Health Network said Thursday it has started a "fully integrated cancer program" with longtime oncology partner MD Anderson Cancer Center, based in Houston, the largest cancer center in the United States.
Community Health, based in Indianapolis,  said the new arrangement will give Hoosiers access to some of the most advanced cancer treatments in the nation.
Community Health has been a certified member of MD Anderson cancer network for nine years. It said the new partnership builds upon its previous collaboration, and provides more resources and expertise for physicians and patients here. Community becomes just the sixth partner in the country of MD Anderson, and its only partner in the Midwest.
Like most hospital systems in central Indiana, Community Health has been pouring tens of millions of dollars into new cancer facilities and treatments. In 2017, it opened a $60 million cancer center near its north campus off of North Shadeland Avenue, equipped with two linear accelerators and 32 private infusion rooms for patients getting chemotherapy treatments.
It's one of the fastest growing areas of medicine, with more than 1 million new cases of cancer diagnosed each year. The United States will spend more than $150 billion on cancer care this year, according to the National Cancer Institute.
Community said the collaboration will allow it to offer the same treatment and care to Hoosier patients that they could get if they went to Houston, where MD Anderson is housed at the University of Texas.
"This partnership with MD Anderson combines the best of what Community already offers its patients with the added expertise of a global leader in cancer care," Bryan Mills, president and CEO of Community Health Network, said in written remarks.
He added: "One of the key advantages Community offers patients is convenient access to exceptional health care with a full continuum of services. In taking this next step with world-renowned experts in cancer care, Community MD Anderson will further elevate the care we offer our patients, while holding to our core value of patients first."
The partnership allows Community to offer eligible patients throughout central Indiana and the broader Midwest access to innovative cancer treatments that are among the most advanced in the nation through select MD Anderson clinical trials and research studies, as well as peer-to-peer access for Community's physicians to MD Anderson's experts for consultations.
"Our team of 22,000 cancer experts in Houston applaud the excellence of Community and its commitment to elevate its cancer care, research and prevention services in order to offer world-renowned treatment to patients in the Midwest," Dr. Peter WT Pisters, president of MD Anderson, said in written comments.
That means cancer patients in Indiana could get access to new experimental cancer drugs that are used in clinical trials, without having to travel hundreds of miles and stay in a hotel for days or weeks at a time.
The MD Anderson Cancer Center in Houston ranks as one of the world's largest and most highly rated centers focused on cancer patient care, research, education and prevention. MD Anderson is one of only 51 comprehensive cancer centers designated by the National Cancer Institute.
MD Anderson is No. 1 for cancer in U.S. News & World Report's "Best Hospitals" rankings and has been named one of the nation's top two hospitals for cancer since the rankings began in 1990.
Please enable JavaScript to view this content.