Jim Sapp never expected to start a business specializing in renting storage space to other companies. And he couldn't have dreamed that it would grow to nine locations with more on the way.
In fact, Sapp said he sort of lucked into the business. "Maybe I shouldn't say that, but it's true," he said.
Sapp's company, Indianapolis-based Rise Commercial District, has locations throughout Indiana and Ohio and is planning more around the Midwest. They're part of a co-warehousing movement that provides small companies with flexible space as they grow, much like office co-working space does. Co-warehousing customers run the gamut of industries, but the service appeals particularly to logistics and e-commerce firms.
Rise Commercial District grew out of an idea that took root after Sapp bought a struggling lumberyard when he needed more space for his garage door company.
It was during the Great Recession in 2009. Sapp noticed the owners of Butz Lumber Co. were selling their property at 8070 Castleton Road.
"So we moved in and, lo and behold, people started coming to me saying, 'Jim, can I just rent a thousand square feet?'" Sapp said. It was an easy yes. He had 50,000 square feet in six buildings and didn't need nearly that much. "So I just started renting space."
Soon after, Sapp opened his first Rise Commercial District location. He sold Access Garage Door in 2013 to focus on Rise full time.
"We started by default—by people needing smaller space during the recession—and then we've refined it," Sapp said.
Although co-warehousing has been around a few years, Rise's niche is serving companies that need less than 5,000 square feet of warehouse space and prefer leases of six months to one year. Some tenants even operate on month-to-month leases.
Traditional warehousing, offered locally by commercial real estate companies such as Dallas-based CBRE Group Inc., which has an Indianapolis office, and Indianapolis-based Duke Realty Corp., involves large spaces and long leases. (Duke—one of the Indianapolis area's largest public companies—is in the process of being sold to San Francisco-based Prologis Inc. for $26 billion.)
Sapp said he doesn't think Rise has a true competitor because "nobody really does what we do that we have seen anywhere."
James Breeze, who works as global head of industrial and logistics research for CBRE in Arizona, said he began noticing the co-warehousing concept about five years ago, but that it usually involves spaces larger than what Rise offers and smaller than traditional warehouse leasing.
"The typical companies that would probably lease space under 25,000 square feet are the ones that are looking into this option either as an addition or an alternative," Breeze said.
While Rise does business with giants like McDonald's, Redbox and Verizon, most of its tenants are on the smaller scale and looking to expand, such as those in e-commerce, logistics and the service industry.
"I don't like to call it an incubator. I like to call it an accelerator," Sapp said. "We take companies that are 3 to 5 years old, and they still may be in their garage or their neighbor's barn or something, and they need their own space, and they need their own office. And that's where we come in."
Growing fast
While co-warehousing remains a small piece of the overall warehouse industry, Breeze said it is increasing in popularity for three reasons.
One is that tenants want to keep adequate inventory available on a short-term lease as protection against supply chain disruptions. Another is that a co-warehousing space provides an option during the holiday or back-to-school seasons when certain supplies are in demand for a short time. And a third is that small companies are hesitant to lease a larger facility due to economic uncertainty.
"That's essentially what's driving this [co-warehousing] market, and it's something that we see that is growing. But it's a very, very small part of the overall distribution," Breeze said.
Rise Commercial District's widening footprint is part of the market growth.
The company expanded to Greenwood in 2017 and to suburban Columbus, Ohio, in 2018. Rise added space to both those locations in 2019, and in 2020 it opened a location in Fort Wayne and a second in the Columbus area.
The newest Rise warehouses are in Noblesville and in Ohio: another in suburban Columbus, plus one each in suburbs of Toledo and Cleveland.
The company expects to open a location this fall in Lebanon, Ohio—between Dayton and Cincinnati—and it will expand to Avon, Detroit, Milwaukee, St. Louis and St. Paul, Minnesota, in 2023.
IBJ recognized Rise in 2021 and 2022 on its Fast 25 list of fastest-growing companies in the Indianapolis area. The company reported $6.9 million in revenue in 2021 with revenue growth of 128% from 2019 to 2021.
"We have been trying to grow smart," Marketing Director Allison Barber said. "We've had some opportunities to grow into other markets, and we're definitely still open to that. We just want to make sure that we're keeping our finger on the pulse of what the business is doing."
'It's been working'
Rise received its franchising license in May, and Sapp said he has interested franchisees in Colorado, Mississippi and Texas. But he remains focused on keeping corporate-owned locations in a more tightly controlled area. He said starting a Rise location typically takes two to three years, which includes finding a property, winning zoning approval and securing financing.
"We're looking to stay in the Midwest," Sapp said. "Kind of the spoke-and-hub theory, so we can manage it.
"We can only do so much with this limited staff and getting the financing, so the franchise enables us to go further out—say Texas, Florida—and find entrepreneurs that have money and know the sites and know the areas where this is needed," he said. "So I see it as another avenue to growth for the company."
Rise's Noblesville location at 605 Sheridan Road features 14 buildings with 11,200 square feet of dedicated office space and 124,320 square feet of storage and warehouse space. It also has 20 private offices and a shared workspace, as well as 118 storage and warehouse units.
Sapp said the company has about 800 tenants at its nine Rise locations, which have an average of 125 warehouses each.
Each of Rise's first six warehouse districts are at 98% to 100% capacity, so the company is planning larger districts with about 150 warehouses each at its soon-to-be-built locations.
Sapp said Rise customers "want to focus on their business, so we want to just give them a clean, well-lit space with 24/7 access."
"And it's been working," he said. "We have waitlists at almost every site."
Sapp said he had a "few sleepless nights" when the pandemic began in March 2020. But he said Rise has been valuable to customers over the past 2-1/2 years that have needed to downsize from 10,000 to 20,000 square feet to 2,000 to 3,000 square feet.
"I thought our tenants were going to panic and move out or not pay or whatever, like what happened to the hotel industry or the music industry," he said. "Our people, they never skipped a beat. … We actually got more business."
Rise has not been immune to the impact of high inflation, however. The company is raising its rates, but Sapp said tenants have understood.
"They know that gas is four bucks and that Rise is going to have to raise its rates," he said.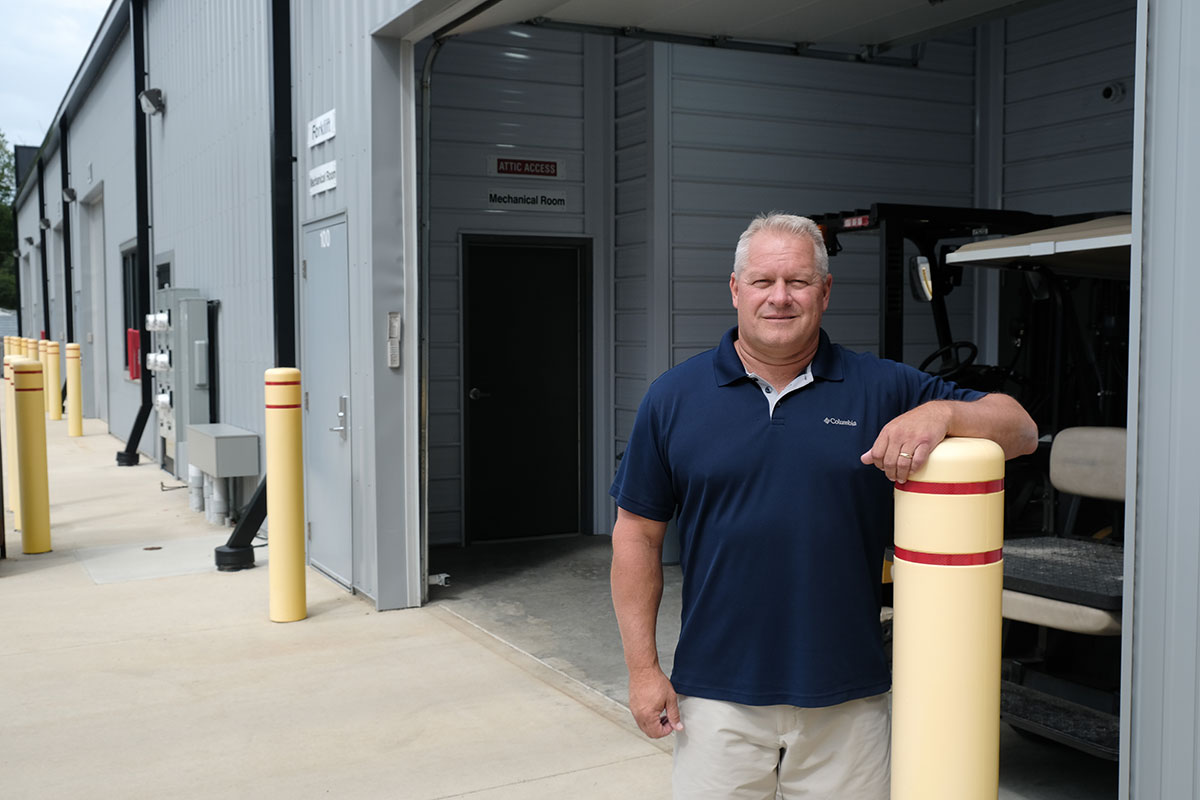 Keeping tenants happy
When Matt Hunt moved the Indiana branch of Denver-based AAA Interstate Transportation LLC from Indianapolis to Noblesville in January 2021, he didn't need a lot of space. But he wanted convenience and a place where he felt secure that his equipment was safe.
He said he found that at Rise Commercial District.
"It just worked out perfect because it's so easy to get in and out," Hunt said. "It's very friendly. Everybody's here to do one thing: Work and make money and go home and be with their family. So we're all doing the same thing."
Hunt is a terminal manager for AAA Interstate Transportation, which has offices in Noblesville, Denver and Las Vegas. He worked on Washington Street in Indianapolis for about a year after the business moved from its longtime home in Union City.
The company delivers vehicles as small as a Ford Edge and as big as a crane anywhere around the country.
Hunt, a Westfield resident, said he kept an eye on Rise's Noblesville location as it was being constructed in 2020. He became the first tenant after it opened in January 2021.
His warehouse unit includes a 400-square-foot office with a bathroom and a 1,200-square-foot heated shop. The warehouse campus also has a shared conference area where Hunt holds driver orientation and safety meetings.
Hunt appreciates that utilities are included in his rent—the average monthly rate at Rise Commercial District is $1,200—and he pays a little extra for Rise's fastest internet speed.
His neighbors include businesses in online shoe sales, automotive wrapping, landscaping and pest control.
"It's so diverse as far as the types of businesses, Hunt said. "It works for a little bit of everybody."
Safety, location and convenience are the three main factors business owners want when they look for a warehouse at Rise, according to Sapp.
Tenants have access to free Wi-Fi, forklifts, restrooms, flexible lease terms and educational events that help growing companies better understand marketing, accounting and human resources.
Customers also like that the space is gated, Sapp said. "They just want to be close to an interstate ramp or a major highway so that whatever business they're in, they can get to their customers."
With Rise continuing to grow 13 years after its founding, Sapp said the most fulfilling part of his job is when customers write to him and tell him about the impact his business has had on their lives.
"I think the biggest feather I get is when people email or call and say, 'You know, my company was really struggling, and your warehouse has helped us grow, and it's good for my family,'" he said. "… It makes me feel good that we're doing good things for the world or for the country or for the state."•
Please enable JavaScript to view this content.