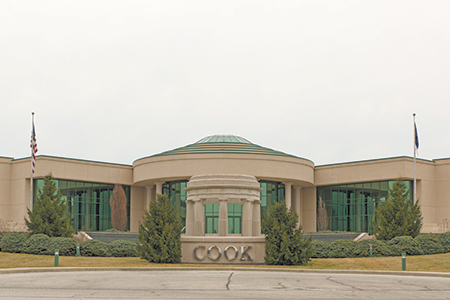 Bloomington-based Cook Medical Inc. is hoping to address Indiana's housing shortage for middle-income families, and it is starting with its own workers. The medical device maker announced Wednesday that it will build 300 houses across south-central Indiana, beginning in the town of Spencer in Owen County.
The company has purchased 62 acres of land across the street from the Cook Spencer facility, where plans call for the construction of 90 homes. Cook employees will get the first option to buy.
"Addressing the shortage of workforce housing within our region will be a multiyear effort," said Steve Ferguson, chairman of the board for Cook Group. "We believe in making our communities stronger, and investing in workforce housing is one way we will continue to help our employees and communities reach their full potential, including a dream of home ownership."
To help fund the project, the company said its real estate arm, CFC Properties, would sell some of its commercial properties to help with the growing need for workforce housing.
The Holcomb Administration made housing a top priority for its 2022 legislative agenda as it attempts to attract and retain workers. In March 2020, the administration created the Housing Work Group, as part of the Indiana Housing and Community Development Authority, to examine the state's housing supply.
Indiana Lt. Gov. Suzanne Crouch said having enough housing for an increasing number of workers in the state is a challenge. She said Cook's initiative is part of the solution.
"The private sector drives progress," she said. "Government can be a catalyst. Government can be a partner, but it's the private sector that moves the needle and that is why it is so important for communities to have those corporations not just providing jobs, but providing support for the community."
Crouch said other large companies in southwest Indiana are creating incentives, beyond basic jobs, to help attract and retain quality workers.
Cook will provide employees with education and resources to help them with the homebuying process and prepare them to become homeowners.
Please enable JavaScript to view this content.