Nearly a year after Indiana launched its sports technology initiative, organizers say they have built relationships with leaders throughout the sector and hope to lure four related companies to the state by the end of the year.
An arm of the Indiana Economic Development Corp., Sports Tech HQ Inc. opened in June 2022 and has been increasing its visibility through events, programming, incentives and site tours.
The sports tech umbrella covers technology as wide-ranging as wearables that measure a person's movement and speed, sensors that measure heart rate and pressure or, on a larger scale, tools that measure whether team goals were met.
The IEDC has invested $2.5 million in Sports Tech HQ, with a two-year agreement that runs through the end of this year and is expected to be extended.
So far, about $474,000 has been spent on staff compensation, general operations and marketing. The organization shares some resources and staff with the Indiana Sports Corp., which oversees efforts to bring major sporting events to the state.
The hope is that Indiana can leverage its reputation for hosting major sporting events to grab a good portion of an industry valued at $13.1 billion globally and expected to grow to $74 billion by 2030, according to a report from San Francisco-based Grand View Research.
"This is all really about building upon our [existing] sports ecosystem," said Jeffrey Hintz, executive director of Sports Tech HQ, "and leaning heavily into sports tech—having someone who wakes up every day thinking about who is out there for us to go after, what startup companies are cropping up and how we can help them all grow."
So far, the group has taken meetings and hosted site tours for companies from across the United States and overseas, most recently an unidentified firm from Norway.
Hintz declined to share details of those visits but said many of the companies are interested in further exploring an investment in the state.
Hintz's work is the next step in an Indianapolis effort that began a few years ago to build the foundation to support sports tech companies.
It resulted in Colorado-based Techstars Sports Accelator launching an incubator for sports tech companies in Indianapolis.
The incuboator has provided seed funding, connections and three-month mentorships for 23 sports tech startups worldwide in the past two years.
One of those, from the 2022 class, is Indianapolis-based The Fan's Place, a loyal platform that rewards sports fans for visiting bars and restaurants.
This year's class, which is set to be announced publicly in June, is expected to include 13 companies.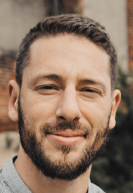 Jordan Fliegel, Techstars Sports Accelerator's managing director, said Sports Tech HQ can take what his accelerator does one step further, by helping to retain Indiana companies that receive accelerator funds and encouraging them to set down roots.
But doing so takes time and money, he said.
"We're all in this together," Fliegel said. "We all want this industry to grow, and it's a very collaborative environment as we strive to do that. It gets a little easier every year for us as our reputation has been built up. But with Sports Tech HQ launching … it's all about how we leverage that and continue to build on it."
Flexia, a California-based startup that manufactures a smart Pilates machine for home use, was part of Techstars Sports Accelerator's first class, in 2021. It also received funds from Sports Tech HQ earlier this year to jump-start its manufacturing efforts in Indiana. Flexia has not announced where that facility will be located.
Kaleen Canevari, founder of Flexia, said Sports Tech HQ "really played a critical role in getting our business off the ground, to a point where we now have all the things that make us a really attractive growth-stage company," she said. "I don't know yet where the next stage of funding will come from, but in terms of partners that help us grow … that's something the network we've created in Indiana is really important for."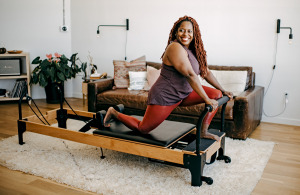 A big push
As part of its launch, Sports Tech HQ invested an undisclosed amount to bring the One-Zero Summit to Indianapolis last year.
The summit is an international, multi-day event centered on sports and entertainment technology that began in Dublin in 2016. The event was held at the NCAA headquarters downtown last summer and will return to the city in August as part of a co-location strategy that follows a summit in Dublin in March.
In December, Sports Tech HQ was the title sponsor for Indy Classic—a two-game basketball event that replaced the long-running Crossroads Classic that featured four Indiana teams. The next month, Sports Tech HQ was promoted at the annual Consumer Electronics Show in Las Vegas, the biggest technology conference in the world.
Ross O'Dwyer, co-founder of One-Zero, said these efforts will pay off big-time down the road.
"I think [Indiana] can be a hub—they're so passionate about it," O'Dwyer said of local tech leaders. "It goes to consistency, though, and increasing bit-by-bit every year what is being done. I know that's not what people like to hear. It's, 'How do we do something in four years?' But instead, it should be, 'What does it look like in 20 years?' I can nearly guarantee Indy will be a hub by then, but it's going to take that compounded effort to attract things there versus another state and help people understand that Indy is the place to be."
The organization has also partnered with the Indy Autonomous Challenge and last month was signed on as a sponsor of Indy Eleven.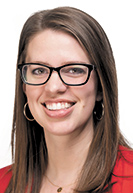 In a statement, an IEDC spokeswoman said the quasi-government agency is playing to its strengths.
"The IEDC is hyper-focused on this sector," said Vice President of External Communications Erin Sweitzer, "because Indiana is extremely well-positioned to capitalize on our reputation as a world-class sporting-events host, our role as one of three of the world's motorsports epicenters, and [according to Forbes] as the No. 1 state to start a business."
Sweitzer said the IEDC believes "there is no ceiling" for the sports tech industry's growth here.
Incentive for investing
For most companies, the biggest challenge is getting off the ground. Most creators can't self-fund their projects to the point that their businesses can begin significant growth.
Techstars Sports Accelerator generally helps companies make that leap, not only through seed funding but also by helping them get in front of would-be investors.
"We make introductions to usually 100-plus venture capital firms for each company when they're ready to raise funds," Fliegel said. "Oftentimes, newer companies don't know how to raise, or their pitch isn't strong, or they don't have that network. We give them a warm intro to investors because it's hard to just go cold. Fundraising isn't the only part of what we do—It's [just] the part that's hardest for first-time creators."
Flexia's Canevari said Indiana is making itself stand out by investing in a sports technology strategy—something few other states can boast. That could lead many companies to begin looking at Indiana in this nationwide tight lending environment. With higher interest rates slowing development, Indiana's reputation for being pro-business and tax-friendly could give the state an edge over tech hubs like California, New York and Chicago.
"It makes Indiana a really attractive place for startups like mine to come and grow because there's opportunity" to gain exposure to target audiences, as well as a growing pool of investors, she said.
Part of Sports Tech HQ's strategy includes encouraging investors to put money in sports tech companies that set up shop in Indiana. Hintz said he's "really excited" to deploy the state's new venture capital tax credit program, which provides significant tax credits to individuals and investors who provide equity or qualified debt to Indiana companies or an Indiana-based investment fund.
The incentive allows for 25% transferrable tax credits on those investments—or 30% if it's in a woman- or minority-owned business—and allows investors who don't live in the state to sell the credit.
"For us, it's critical to be able to work with these companies to make sure they're aware of what exists here, then getting them in front of the right people at IEDC to go through all the details," Hintz said.
Sports tech companies looking to locate in Indiana also have other funding options—like EDGE tax credits, the capital access program, innovation vouchers and relocation credits—but Hintz said many, especially startups, come to Sports Tech HQ specifically to forge relationships with others in the sports and tech communities.
What comes next?
Marc Ganis, a sports business expert and president of Chicago-based SportsCorp Ltd., noted that, while Indianapolis is smaller than many tech hubs, its size hasn't hindered it in other sports-related endeavors.
In March, Sports Business Journal tabbed Indianapolis as the 11th-best market for sports business. It was beaten out by cities like Chicago, Nashville, Dallas and Charlotte, North Carolina, but was buoyed in the rankings by the numerous sporting events it hosts.
Ganis said that, even though event-hosting is different from technology development, the niche is worth chasing if the city and state are up for the task.
"There's an opportunity here, but it's going to take a lot of focus. I don't expect that success will happen organically," he said. "When it wants to compete for something national, or even global, Indianapolis has always fought well above its weight class. But that takes a lot of effort."•
Please enable JavaScript to view this content.