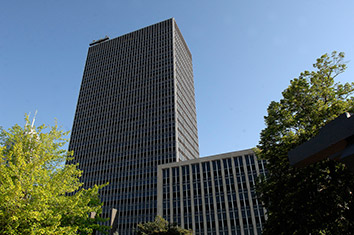 A City-County Council committee on Wednesday night turned down a Republican proposal to study violent crime in Indianapolis.
The council's minority leader, Brian Mowery, introduced a proposal last month that would have created a special commission to study violence and crime following a violent year in Indianapolis, when the number of criminal homicide cases fell but the number of fatal shootings rose.
The Public Safety and Criminal Justice Committee voted along party lines, 8-3, to reject Mowery's proposal.
The vote came hours before a shooting on the far-east side that left four people dead.
As proposed by the council's Republican caucus, the bipartisan commission would have studied the city's response to violent crime and recommended policy changes. It would have included experts and community members, and meetings would have taken place outside of the City-County Building.
The public safety committee's chair, Leroy Robinson, a Democrat who represents the city's first district, said there are existing groups in place that are already studying the city's violence, including the council committee and the Criminal Justice Planning Council. He added that the city council has also worked with Government Alliance for Race and Equity to address how the city can review policy while paying attention to racial and ethnicity issues.
"We're currently receiving data from all public safety agencies and criminal justice, looking at them from an equity lens."
"Not just violent crime, not just victims of crime, but equity in a general sense with our entire criminal justice department," he added.
Fellow councilors agreed, saying the commission would be redundant.
"I'm just concerned about the redundancy we're going to be causing here," Councilor Dan Boots, a Democrat, said. "This committee has the broadest convening and oversight power of any group … (it's time) to flex our muscle."
Representatives from the mayor's office, the sheriff's department and the prosecutor's office supported the Democrats' position.
But Councilor Jason Holliday, a Republican, argued that the council has previously created special commissions to study issues that existing committees could have dealt with, pointing to a previously formed infrastructure task force.
Before the vote, Mowery begged his fellow councilors to consider the commission.
"The entities you say we have that can do this work right now, where have they been?" he asked. Year after year it's getting worse. People are afraid to go out of their house at night."
He said the commission would be filled with volunteers and it would cost the city nothing to put it in place.
His sentiments were echoed by residents who asked "what could it hurt?"
Councilors also heard an impassioned plea from local Fraternal Order of Police President Rick Snyder, who presented numbers he said show a crisis. Snyder has been among the most vocal about a need for change.
"I'm imploring you," he said. "This is an emergency."
Following the vote, Robinson sent a statement to media laying out steps that are being taken to address violence.
Moving forward, the public safety council committee will increase oversight and coordination of the city's criminal justice agencies and engage the public in data-driven conversations about addressing violent crime and its underlying causes, the statement said.
The committee also plans to begin working on district-specific safety plans, he said.
There were 171 homicides in Indianapolis in 2019, according to the Indianapolis Metropolitan Police Department, down from 178 in 2018.
Please enable JavaScript to view this content.