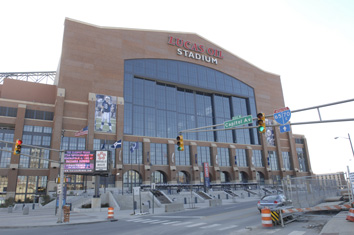 If a new surge of COVID-19 ends up spreading wildly through college football's top teams, a contingency plan would allow a champion to be crowned without the championship game ever being played in Indianapolis on Jan. 10 as planned.
That's among the most extreme scenarios laid out in contingency plans announced Wednesday by organizers of the College Football Playoff National Championship amid concerns about the spread of the omicron variant of COVID-19.
And it would be the outcome only if one of the two teams that advance to the national championship are unable to field a sufficient number of players, or if one of the two semifinal games is unable to be played.
No. 1 Alabama is scheduled to play No. 4 Cincinnati in the Cotton Bowl in one New Year's Eve semifinal and No. 2 Michigan is set to face No. 3 Georgia in the Orange Bowl in the other semifinal.
"As we prepare for the playoff, it's wise and necessary to put into place additional precautions to protect those who will play and coach the games," Bill Hancock, executive director of the College Football Playoff, said in a statement. "These policies will better protect our students and staffs while providing clarity in the event worst-case scenarios result."
Neither of the semifinal games will be rescheduled if the teams don't have a sufficient number of players due to COVID. For each game, the unavailable team would forfeit and the other team would advance.
If both teams are unavailable to play in one semifinal, the semifinal game would be declared "no contest" and the team winning the other semifinal game would be declared the national champion.
According to the contingency plan, the championship game at Lucas Oil Stadium in Indianapolis could be delayed, but no later than Jan. 14. If no team is available to play in the title game, no champion would be declared for this season.
Calling off the championship game would be a huge economic blow to Indianapolis. The four-day weekend, which culminates in the game on Jan. 10, is expected to draw 100,000 people to the city and inject more than $150 million into the local economy.
But, for now, officials fully expect to host the game.
"From a tourism standpoint, hotels are still virtually sold out, a lead indicator fans and visitors are still heading to Indy in less than 19 days," Chris Gahl, Visit Indy's senior vice president of marketing and communications, said in an email.
"We continue to work daily with city and state health officials, alongside the national and local College Football Playoff event organizers, to ensure all health and safety protocols are in place for this major event," he said.
Patrick Tamm, president and CEO of the Indiana Restaurant & Lodging Association, said protocols for the football playoffs are reminiscent of forfeit policies in place during this year's NCAA men's basketball tournament in Indianapolis. One team, Virginia Commonwealth University, forfeited a game during the tournament because of a coronavirus outbreak.
"Hopefully, the games will proceed," Tamm said. "There's been a great amount of community effort to be ready for the game. All we can do is be prepared to welcome fans like we did most recently for the Big Ten championship."
Tamm said the national championship game weekend can build on tourism momentum from December's Performance Racing Industry convention in Indianapolis.
"This is a city that's been able to show the country and the world there are ways to do events," he said. "It may look and feel a little different, but the reality is that we're doing events, trade shows and conventions. We're trying to get that segment of our economy back up. At the same time, this news and other news reiterates the importance of getting vaccinated and getting boosted."
The football playoffs' health guidelines, announced Wednesday, are meant to keep players, coaches and fans safe as the omicron variant of COVID-19 continues to sweep the country as hospitals are at or near capacity.
But the guidelines do not appear to be nearly as strict as the protocols laid down during the NCAA basketball tournament here last spring.
All college football players, coaches and others on the field must be fully vaccinated or test negative for COVID-19 within 72 hours of kickoff, as certified by the school's director of athletics and chief medical officer.
Each institution will arrange for testing at the game site, and continue to use the testing arrangement that it used during the regular season.
Non-essential personnel, such as friends, family members and sponsors, will not have access to the field and sidelines pre- and post-game.
All participating institutions are encouraged to ensure that student-athletes and staff take "prudent measures" and follow medical recommendations to help prevent the contraction or transmission of COVID before, during and after they travel to the game sites, the announcement said. It did not specify what those prudent measures are, or give examples.
All news conferences will be held virtually, with reporters interviewing coaches, staff and student-athletes online.
The organization said attendance at events at the game sites will be optional for student-athletes, institutions' staff members, bands and spirit squads.
The guidelines did not include any restrictions on the movement of players or teams, unlike the NCAA Tournament, which largely restricted players and coaches to their hotels and arenas to lower the risks of a COVID-19 outbreak.
During that spring basketball tournament, players and coaches were prohibited from hitting restaurants, shops or parties—or even getting together for lunch with family members who've traveled to the tournament. The college football playoffs do not include any such restrictions, according to Wednesday's announcement.
The Indiana Department of Health told IBJ it is following guidance from the Centers for Disease Control and Prevention. It said it strongly recommends that Hoosiers over the age of 2 wear masks in public indoor settings in areas of substantial or high transmission of COVID-19, regardless of their vaccination status.
It did not comment specifically on large public events, such as the college football playoffs. However, the Marion County Public Health Department said it continues to be a resource and provide recommendations for Lucas Oil Stadium in its efforts to safely host large events.
The facility has health safety protocols in place in line with recommendations from county health department to help prevent the spread of COVID-19 among guests who attend events, according to an email from department spokesman Curt Brantingham.
Please enable JavaScript to view this content.