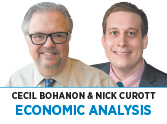 The press and pundits have made a great hullabaloo over President Trump's proposed budget for 2021 released earlier this month. The left is outraged because the president proposes cuts to entitlement benefits, from Medicaid and Social Security to food stamps and housing assistance. What's gone unnoticed is that, despite these cuts, the proposal does little to address the rising tide of national debt.
Trump promised to eliminate the national debt in eight years. Instead, the nation's finances are in an even more precarious position. The national debt is on an unsustainable path, growing faster than the rate of economic growth. The $666 billion budget deficit Trump inherited from Obama ballooned to $1.08 trillion last year. This is unprecedented. The deficit should be shrinking given the nation is at peace and the economy is not in a recession. So, what gives?
Trump has been a big spender. Federal expenditures increased from $4.15 trillion in 2017 to $4.5 trillion last year. The president's proposed 2021 budget calls for further spending increases, to $4.8 trillion. And here's the rub. Neither major political party is promising fiscal responsibility. Rather, the question becomes which constituency to shower with gifts paid for by deficit spending. Republicans favor the military industrial complex; Democrats favor the social-therapeutic service complex. The impact on the bottom line is the same.
The recent tax cuts combined with rising spending is a massive fiscal stimulus that is inappropriately timed. Now is the time to put the budget on a sustainable path, while the economy is strong and unemployment is historically low. Needlessly stimulating the economy today leaves less fiscal policy space for government to respond when the next recession eventually strikes.
Even worse, excessive government borrowing crowds out private business investment. This decreases the productivity of the workforce and lowers the overall rate of economic growth. The current trajectory of over-indebtedness will cost the average American household $2,000 to $6,000 in annual income by 2040, according to the Congressional Budget Office.
The recent deluge of criticism of the president for proposing reductions in social spending largely misses the mark. The federal government has nearly $45 trillion in unfunded liabilities—and everyone recognizes something must eventually be done to trim this down. Both reductions in social spending and tax increases are inevitable as part of a larger bipartisan solution. Criticize if you must, but please offer a viable alternative.•
__________
Bohanon and Curott are professors of economics at Ball State University. Send comments to ibjedit@ibj.com.
Please enable JavaScript to view this content.