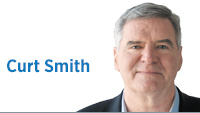 An open letter to fellow conservatives in Georgia:
Welcome to the woke world of corporate and big-sports bullying. Having gone through something similar here in Indiana, we trust you'll find some comfort in knowing about our experiences.
In March 2015, our Legislature passed the Religious Freedom Restoration Act to give people of all faiths stronger protections from government. Political activists and others decried the effort as the work of a bunch of small-minded bigots who wanted a license to discriminate against the LGBTQ community.
This is similar to what Georgia lawmakers did recently in clarifying your election laws after this November's results were uncertain for weeks and then less credible than past elections. Immediately, the same woke cancel culture claimed your efforts were racist and bigoted, designed only to discriminate against and disenfranchise disadvantaged Georgians.
Enter from stage left the sports bully Major League Baseball, moving the All-Star summer game from Atlanta to Denver. Incidentally, Colorado election laws are more restrictive than Georgia's new laws, but sports bullies don't read. They just react.
Your two top corporate bullies in the Georgian version of this drama, also entering from stage left, Delta Airlines and Coca-Cola, then started their virtue-signaling dance with veiled threats about moving or restricting future economic activity. No actions, mind you, just theater.
In Indiana, the sports bully was played by the NCAA, which threatened to cancel any and all future March Madness and Final Four basketball games while also moving its headquarters to other more tolerant climates.
Our corporate bullying leads were played by Cummins and Salesforce.
So, Georgia, where are we six years later?
The NCAA just had us host all 67 March Madness games in a pandemic-shaped unique format. Indianapolis and central Indiana masterfully conducted the games and protected players, fans and all the professionals involved from COVID. There were many accolades for our community, but no recollections of legislators' perceived fit of pique in strengthening religious liberty for all.
Cummins, an Indiana-based company, built a gleaming glass headquarters a few blocks from the Statehouse that it once alleged was backward and bigoted. This required the company to move many executives from Columbus to Indianapolis after declaring our capital city had been forever tainted by the debate around approving the Indiana religious-liberty protections.
Salesforce, meanwhile, not to be outdone, affixed its eponymous corporate logo to our state's tallest building, so it can keep a corporate eye over all the small-minded, backward-thinking bigots it loves to employ, because Hoosiers are great, welcoming and tolerant workers. This building is even closer to our Statehouse, casting its shadow over where the alleged legislative intolerance occurred.
Georgia, Indiana cannot promise poetic justice on the scale of the NCAA, Cummins and Salesforce. But our experience here confirms that the organizations attacking our residents and elected leaders did not carry through on their threats. In fact, once it was in their interest to save a tourney, or invest many millions to deepen a corporate identity, they acted rationally by investing in Indiana.
We can share our experience with you and others to encourage you to remain steadfast and principled, rising above the insults and slurs from the uninformed attackers, simply adding, "This, too, shall pass."
Oh, I almost forgot, our governor at the time, Mike Pence, was also denigrated and declared roadkill in the political culture wars. Of course, now we call him Mr. Vice President.•
__________
Smith is chairman of the Indiana Family Institute and author of "Deicide: Why Eliminating The Deity is Destroying America." Send comments to ibjedit@ibj.com.

Click here for more Forefront columns.
Please enable JavaScript to view this content.