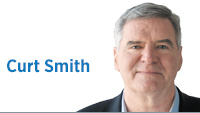 The Great Divide besetting America is more evident as 2021 begins and our nation approaches the second year of the great pandemic. With razor-thin special Senate elections in Georgia, a narrowly elected House speaker, and a president-elect holding power by less than 43,000 votes, the nation needs healing yet suffers harm.
For many, such sharp divides in troubled times would argue for humility, cooperation, restraint, compromise or even power-sharing between the political parties in public life. But there is no sign of humility nor restraint in Washington. Hubris, even in the face of the lengthening pandemic, is the reigning ethos.
As Solomon's ancient proverb so wisely states: "Pride goeth before destruction, and a haughty spirit before a fall."
Perhaps most ripe for a fall is House Speaker Nancy Pelosi. Having lost at least 10 seats in the election, she narrowly eked out a victory to continue her leadership after breaking her own rules by secretly constructing a plexiglass pod for a COVID-positive legislator to vote. She won by just two votes, and with less than a majority of the 435-member House, losing five votes from her Democratic colleagues.
Pelosi's first order of business? Ram through new rules to operate the House that substantially dilute the rights and opportunities of the barely minority opposition. She prides herself, and rightly so, on leading the People's House. But she just cut off the opportunity for half of the People's House to offer alternatives to the majority's proposals.
Why did she not meet with her Republican counterpart and suggest a shared agenda of further fighting the pandemic, shoring up the economy and fashioning a bipartisan infrastructure bill, leaving more contentious issues for future partisan fights? Because her mostly left supporters would never agree. But rather than temper their expectations as a national leader, Pelosi emboldened the most radical elements within her caucus to secure power.
Things are much the same in the Senate, where, at this writing, it appears the body is split 50-50, meaning Vice President-elect Kamala Harris breaks the tie to make New York's Chuck Schumer, a Democrat, the leader. Schumer famously said recently, "Now we take Georgia, then we change the world!"
His Senate agenda for change includes a $3 trillion stimulus package, the Green New Deal, court packing, two new states (to add four liberal senators) and defunding the police. That is certainly world-changing, but at the expense of America.
Enter President-elect Joe Biden, whose razor-thin victory also reflects the Great Divide. He won Arizona, Wisconsin and Georgia by a combined 42,918 votes to win the Electoral College. President Donald Trump won the Electoral College by 77,736 votes in 2016. True, Biden's popular margin was 7 million votes, harvested under relaxed pandemic voting procedures primarily in New York and California. But we count the Electoral College.
So, is there a spirit of cooperation laced with humility coming from his transition team? No.
His public agenda includes restoring the Iran deal, rejoining the Paris climate accords, eliminating internal combustion engines and increasing taxes.
The voices these so-called leaders ignore are not easily dismissed as rancor from the right. This half of the Great Divide desires and deserves a voice. Pride and a haughty spirit come before the destructive fall.
America deserves humble leadership, not haughty lordship. Hopefully, history will continue to teach that America will not be denied.•
__________
Smith is chairman of the Indiana Family Institute and author of "Deicide: Why Eliminating The Deity is Destroying America."


Click here for more Forefront columns.
Please enable JavaScript to view this content.