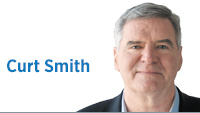 It is a good rule of thumb in Indiana Republican politics that the most conservative, credible candidate wins the primary. By this measure, U.S. Rep. Jim Banks should be considered the front-runner for the 2024 U.S. Senate race now that incumbent Mike Braun is running for governor.
Banks, from Columbia City, is a proven conservative leader who can mount an effective and compelling statewide campaign. Four times, voters in northeastern Indiana have elected him to the seat once held by Dan Coats and Dan Quayle. He also has a compelling personal story, including serving in Afghanistan, and deep policy credentials as chair of the House Republican Study Committee, a role once held by former Vice President Mike Pence.
But most important for Hoosiers, he is a consistent conservative voice and vote against the "Washington-knows-best" government creep that so troubles most Republican primary voters. According to the American Conservative Union's scorecard, Banks has the single most conservative voting record of any Indiana member of the U.S. Congress.
More specifically, as RSC chair, Banks did yeoman's work on the federal budget and spending mess. The RSC, led by Banks, was the only group in the 117th Congress to release a proposal to balance the federal budget. That is thankless but essential work. He also is a staunch defender of protecting our southern borders and was an early critic of China's flagrant flaunting of international norms and agreements.
Of course, we'll have to wait to see how the political dominoes fall. But given that Braun has filed paperwork regarding the 2024 gubernatorial race, it is all but certain a U.S. Senate seat in Indiana will be vacant. The opening will attract a ton of interest, but waging a statewide race is a huge and expensive task.
At age 43, Banks has the energy to cover our big state and the character to connect with its 7-plus-million residents. His humble background means he won't be a self-funder, but his common touch will help him in the urban centers, suburban environs and rural reaches of Indiana.
During such a race, Indiana voters will meet his wife, Amanda, who stepped in to fill Banks' seat in the Indiana Senate when he deployed to combat zones in Afghanistan. They will also meet the couple's three young daughters, ages 13 and under, who might help explain his passionate yet principled defense of girls' and women's sports.
Those voters will learn Banks was the Whitely County GOP chair before running for the state Senate. He also had stints in the private sector and did policy work with Focus on the Family.
Such credentials have caught the attention of Banks' congressional colleagues. In addition to electing him to chair the RSC, more than 100 Republicans voted for him to serve in the upcoming Congress as majority whip, the third-ranking role on the House GOP leadership team responsible for securing support for legislation among the rank-and-file. While the move was not successful, it speaks well of the congressman that he had such strong support, especially among the Indiana delegation.
Those same qualities should help Banks garner strong support from many of the key organizations that engage in significant races that impact national policy. These include the Club for Growth, pro-family and pro-life groups, an array of pro-veterans' groups who know he is a champion for veterans, and pro-religious-liberty interests.
Important disclosure: Not only do I consider Jim and Amanda Banks friends, but I have made multiple contributions to his congressional campaign committee over the years.•
__________
Smith is chairman of the Indiana Family Institute and author of "Deicide: Why Eliminating The Deity is Destroying America." Send comments to ibjedit@ibj.com.

Click here for more Forefront columns.
Please enable JavaScript to view this content.