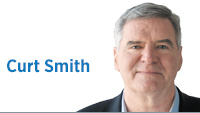 The preliminary primary election data in this raucous, rash pandemic year shows the early signs of discontent among some Republican faithful. Whether these signs unfurl into full frustration depends on many factors, including how the candidates campaign this fall.
Many will dismiss such analysis, saying we cannot draw any conclusions from this atypical election in a tumultuous year. But the pain, difficulty, alarm, anxiety and angst produced by the pandemic, social unrest and economic distress expresses itself politically and could more fully express itself in this fall's general election.
Consider the following:
In the state's most watched congressional primary, the open seat in Indiana's 5th District, GOP establishment names were rejected for complete newcomers. The three top vote-getters had zero to little government experience. None had been elected to prior office, and they bested by wide margins state Treasurer Kelly Mitchell and former Marion County Prosecutor Carl Brizzi.
One newcomer, Micah Beckwith, whom this columnist supported, spent about $20 per vote (for roughly 10,000 votes) compared to nearly $100 per vote for Treasurer Mitchell and more than $110 per vote for Dr. Chuck Dietzen, a physician. These numbers are likely to drop by as much as 10% as final vote tallies are released, but the pastor/musician Beckwith found his voters with far fewer dollars than any of the top seven contenders in the crowded 15-way primary. Or maybe they were looking for him.
Initial returns also indicate a moderate GOP House incumbent was defeated. Yet the more conservative members of the House, such as Bruce Borders and Curt Nisly, easily defeated opponents. Other consistently conservative legislators such as Christy Stutzman and Matt Hostettler had no challengers, while more moderate, longtime members Matt Lehman and Dan Leonard are barely leading in tight races.
Moreover, two established, experienced, respected policy advocates came up short in open legislative races. Leah McGrath, the former deputy mayor of Fishers, lost to a military veteran and attorney who is a newcomer to politics for the seat vacated by former House Speaker Brian Bosma. JR Gaylor, a seasoned Statehouse hand who helped fashion labor and pro-business policies for decades, also lost to a newcomer in a Hamilton County state Senate race. Again, established names rejected for newcomers.
President Trump received more than 90% of the Republican vote, as did incumbent Gov. Eric Holcomb. Any leader getting 90% of the partisan vote is in good shape, but Trump had an opponent, former Massachusetts Gov. William Weld, while Holcomb was unopposed. That means at least 15,000 voters—about one in 14 Republicans, the most conservative slice of the electorate—chose to not vote in the governor's race. This suggests the seeds of some displeasure.
A counter argument to the "seeds of discontent" thesis of this column is that almost all school tax increase referenda increases were approved. But voters see education issues as local, nonpartisan matters.
The next opportunity to assess whether our tumultuous times may produce some rocky if not tumultuous challenges will come at the GOP convention later this month. A conservative favorite, Attorney General Curtis Hill, is opposed by three challengers, and delegates elected June 2 will choose among them for the party's candidate. If Hill prevails, as this columnist anticipates, the more mainstream GOP candidates will need to recalibrate their messages and methods this fall to reach out to the party's conservative base. Governing from the middle works most of the time, but shoring up the base may become necessary in disquieting 2020.•
__________
Smith is chairman of the Indiana Family Institute and author of "Deicide: Why Eliminating The Deity is Destroying America." Send comments to ibjedit@ibj.com.

Click here for more Forefront columns.
Please enable JavaScript to view this content.