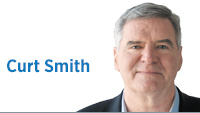 The accompanying chart shows two decades of declining American religious body membership rates. The decline actually goes back eight decades. This accelerating decline, perhaps fueled in part by the pandemic, is not good news.
Church attendance brings many benefits to individuals and society. These are well documented by academics at diverse think tanks such as Heritage, Pew and Brookings and by scholars such as Bradford Wilcox and Patrick Fagan.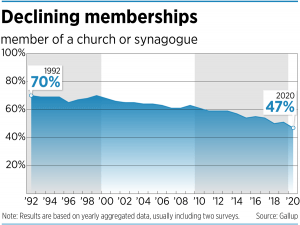 Regular participation in religious services has been shown to improve:
◗ health, wellness and longevity across all socio-economic categories.
◗ marital stability and satisfaction across all categories.
◗ the more subjective but still important happiness indicators.
◗ the lives of children, from boosting school performance, to resisting drug and alcohol abuse, to overcoming poverty via workplace and professional success.
Moreover, children in church-going homes are far less likely to be abused or neglected.
This is a simple summary of benefits to individual faith community adherents. But declining church membership also means fewer churches with fewer resources. So there is an impact on the larger society as well.
Estimating the social, economic and spiritual impact of faith communities is an art, not a science, and a relatively new art at that.
A 2016 study published by the Religious Freedom and Business Foundation estimated the economic impact of all American congregations at $1.2 trillion. A 2011 study estimated a midsize church (about 400 members) contributed more than $500,000 in assistance annually. This same analysis concluded one large, urban church in Philadelphia provided $6 million in assistance annually.
Services range from addiction recovery (130,000 or so providers in American churches alone), job training and placement, direct assistance from cash to diapers, mental health counseling, marriage preservation and pre-marriage counseling, spiritual guidance, food pantries, homeless shelters, rent assistance, bereavement counseling, elder care and more.
These services are typically provided by volunteers or professional staff working well below market rates who see a human being in need, not a number in a line or a vote to be harvested. As a Christian, of course, I believe there are eternal implications of this trend line. But here we focus on the temporal alone.
God help us if this trend continues and is not reversed by the faith community's extraordinary success in helping us navigate the pandemic and the cultural crosswinds that come from growing secularization.
Let's pray and work together to strengthen Indiana's 10,000-plus active houses of worship as we come out of a challenging time.•
__________
Smith is chairman of the Indiana Family Institute and author of "Deicide: Why Eliminating The Deity is Destroying America." Send comments to ibjedit@ibj.com.

Click here for more Forefront columns.
Please enable JavaScript to view this content.