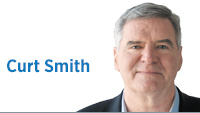 The magic of March Madness is upon us, and with it, Indianapolis has a rare opportunity to reinvigorate our beleaguered downtown. The key to success, however, is not the usual formula—demonstrating our famous hospitality, showcasing our amazing facilities or emphasizing our walkable city.
The key to our success is public safety, the thin blue line we call the police.
Hosting the entire tourney is a godsend, especially as the pandemic diminishes and civic leaders seek to revive our distressed, scarred capital city following last summer's riots.
Accommodating all 67 games and 68 Division I teams in the NCAA men's basketball tournament is a true economic jump-start. Add to that the millions of basketball fans who will have eyes on Indianapolis over nearly three weeks. The national championship game April 5 alone typically attracts 20 million-plus viewers.
These viewers, if the coverage mirrors past mega-events, such as the Super Bowl or NCAA Final Four, will see highlights of Indianapolis that put us in a positive light, including the announcers' obligatory praise of St. Elmo's shrimp cocktails. We can confirm anew that Indiana is the world's basketball capital.
In the process, hotels will have added guests, restaurants extra patrons and coffee shops more stimulating brew and conversations. Cash registers will ring, and dollars will flow into the tax coffers of state and local governments. Above-average temperatures are forecast, along with an early spring.
This is a golden opportunity. This is what we built this city to do. Hoosiers are famous for our friendliness and hospitality.
But with record levels of youth violence just blocks from the key venues of Hinkle Fieldhouse, the Indiana State Fairgrounds and Lucas Oil Stadium, will city leaders allow officers to do their jobs to keep us all safe? Will the protestors and aggrieved community members with valid concerns choose this time and setting to again publicly state their grievances, risking violence and confrontation like we experienced May 29 to June 1? Will the squalor allowed on Monument Circle since summer return as temperatures warm, challenging the order required for large-scale events?
The answer to these questions is yes, unless we allow the police to protect us and our guests from the violence and harassment that has paralyzed downtown. Civic leaders I know with direct knowledge of the events of last summer say the violence was far greater and the use of firearms more extensive than the public understands. I write this as a Hoosier with two close friends whose sons were murdered in the past two years.
No wonder the Indiana General Assembly is threatening to act like a super city council. Because Indianapolis is the seat of state government, and legislators from all over Indiana must work here for many months at a time.
The sadness of the situation was summed up in the marketing slogan coined to help achieve what we hope hosting this tournament accomplishes: Back Downtown.
Now, there is more than one way to read this line.
How we handle public safety during the tourney will determine whether that slogan means we are again back downtown, enjoying some of the finest public spaces and places anywhere. Or will the slogan mean Indianapolis is the town that backed down, again, to lawlessness—throwing the police under the bus?
The livelihoods of thousands and the quality of life of millions will be affected by how we conduct ourselves as hosts. Given the times, hosting now has much to do with thickening the thin blue line. Hoosier hospitality demands no less.•
__________
Smith is chairman of the Indiana Family Institute and author of "Deicide: Why Eliminating The Deity is Destroying America." Send comments to ibjedit@ibj.com.

Click here for more Forefront columns.
Please enable JavaScript to view this content.