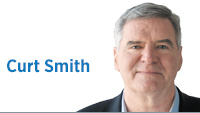 The Indiana Senate deserves praise for passing legislation declaring that religious activities are essential services, thereby elevating the faith community to its rightful place during this horrible pandemic.
The action rights a wrong against churches, synagogues, mosques and other worship centers in the health crisis. It applies to both state and local officials, and it reminds all public-sector leaders that the faith community is more than—in the immortal words of the late Hoosier economist Ben Rogge—that part of the citizenry whose lot in life is to "obey and pay."
At this writing it is not certain Senate Bill 263, authored by Sen. Eric Koch, R-Bedford, will become law.
Having attended a hearing before the Senate Judiciary Committee, I was especially impressed by the testimony of four pastors—church leaders from very distinct communities—who each told their church's stories rather than argue religious liberty rights, per se. That argument was made by the bill's author and others, including yours truly for the Indiana Family Institute. But these pastors wisely and winsomely just "told their stories."
And what amazing stories they told. Their congregations, like thousands of others, serve the hurting, provide solace in difficulties and a place of celebration in success, while also administering more tangible services—mental health counseling, child care, addiction recovery and maintenance, food, financial support, job support and search, and even diapers.
This testimony was cited several times as senators discussed and debated the measure's merits and risks. That built upon the respectful tone taken by the pastors regarding officials making tough decisions with incomplete information that, in some cases, placed the faith community in a difficult place.
The committee declared through its 8-2 vote that communities of faith must be treated equally with all essential services and—while observing social distancing and other equally applied precautions—must remain open, echoing the reasoning of U.S. Supreme Court Justice Neil Gorsuch. The full Senate passed the bill 40-7 on Feb. 2.
In November, the national court, with new Justice Amy Coney Barrett on the bench in her first religious liberty case, overturned a New York state executive order that severely restricted attendance at worship services and was challenged by the Roman Catholic Diocese of Brooklyn and two Orthodox Jewish synagogues. Gorsuch wrote, "Government is not free to disregard the First Amendment in times of crisis."
"And it turns out the businesses the governor considers essential include hardware stores, acupuncturists, and liquor stores. Bicycle repair shops, certain signage companies, accountants, lawyers, and insurance agents are all essential, too. So, at least according to the Governor, it may be unsafe to go to church, but it is always fine to pick up another bottle of wine, shop for a new bike, or spend the afternoon exploring your distal points and meridians. Who knew public health would so perfectly align with secular convenience?" he added.
The pastors in Indiana wisely spoke more about the fruits of the First Amendment—a vibrant, diverse faith community meeting the deepest human needs. Yet the committee wisely spoke to applying lessons learned from the pandemic through prudent public-policy prescriptions.
Those lessons might be more necessary in the future, when a theoretically more secular, less "religious" governing elite eschews parity and applies harsher rules upon faith communities. That would go beyond Rogge's "obey and pay," adding "stay," as in stay at home. That would leave only "pray" for the faithful, assuming that remains unfettered in the future.•

Click here for more Forefront columns.
Please enable JavaScript to view this content.