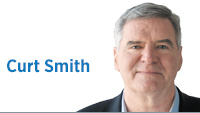 Monument Circle in our capital city has hosted many a homecoming celebration, from war veterans to victorious sports teams to favorite sons and daughters. But on Oct. 20, this hallowed ground will host the return to Hoosier soil of a priceless collection of books and materials related to America's founding and liberty.
The Remnant Trust is bringing the core holdings of its 1,500 documents and books "back home again" after eight years at Texas Tech University. The occasion will be marked by two events featuring famed journalist and commentator George Will, a lifelong advocate of reading the Enlightenment- and Founding-era authors who contributed so much to America's formation. Both events will be at The Columbia Club on the Circle.
The trust is a not-for-profit educational foundation founded by Hoosier Brian Bex, who today is its chairman emeritus. He collected many historical artifacts and original-edition works in the '80s and '90s before formally forming the trust in 1997. He quickly interested several fellow Hoosiers in adding to the collection, including former Indiana University President John Ryan.
Ryan and other early supporters helped shape the unique, distinct mission of the trust to make rare first-edition or early-edition works available in settings beyond the academic world.
That is why the trust committed to bringing the core holdings home from Texas Tech University, which has been a good partner for eight years. But the opportunity to build partnerships with the Columbia Club as a place to view and even handle the items and the Indiana Historical Society as a potential curator as well as other organizations on Hoosier soil was too compelling. Hence, the Will event to reintroduce Hoosiers to this largely Hoosier collection of books and publications valued in the many millions of dollars.
Now, conventional wisdom would dictate that, if you owned a multimillion-dollar antiquarian document collection, you'd keep it locked away from dirty fingers and damaging sunlight or humidity.
And sure, the keepers of The Remnant Trust are careful to preserve the documents that also include a Vulgate Bible, produced circa 1240-1260, a 1542 edition of the Magna Carta, a 1785 edition of William Shakespeare's "Hamlet," and an 1869 edition of Mary Shelley's "Frankenstein", or "The Modern Prometheus."
But they are diametrically opposed to the idea that the documents must never be touched by the public.
"We want these documents to be accessible, for all people with an interest in the history of our civilization and for professors to be able to hold them up in class and for students to get energized by these important works that have shaped our country and the world," said Chris Talley, the trust's board chairman and an organizer of events that will bring 40 or so historical documents to the Columbia Club in October.
"My father, who began this collection, is a former member of the Columbia Club, so it's natural for us to return there to give central Indiana Hoosiers a look at the documents," said Kris Bex, president of The Remnant Trust. "We see this as the first of many events around the state where Hoosiers will get to literally hold history in their hands."
The collection includes an exceedingly rare, third Dunlap printing of the U.S. Declaration of Independence, an original pamphlet printing of the U.S. Constitution and a first edition of Frederick Douglass' "My Bondage and My Freedom."
Come to this event and join those literally holding history in their hands while helping the many civic-minded Hoosiers bringing the books home make some history of their own.•
__________
Smith is chairman of the Indiana Family Institute and author of "Deicide: Why Eliminating The Deity is Destroying America." Send comments to ibjedit@ibj.com.

Click here for more Forefront columns.
Please enable JavaScript to view this content.