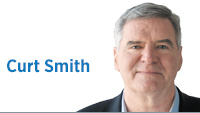 Making predictions in a pandemic is foolish. Doing so closer to its onset than its completion is downright foolhardy. But I will make one prediction that I am confident will hold up well in the coming days.
Indiana will fare far better than most other states because of our unique character.
Let me cite four significant factors and then offer a concluding thought in support of such homegrown optimism.
First, Indiana moved early. Credit our leaders, most significantly Gov. Eric Holcomb. But maybe some of that credit is due to the Indiana leaders in Washington, D.C., heading this battle for the nation.
That begins with Vice President Mike Pence, obviously, but includes Alex Azar, secretary of Health and Human Services; Seema Verma, head of the Centers for Medicare and Medicaid Services; and Jerome Adams, the nation's top doctor as surgeon general. Perhaps having former colleagues in the fight at the national level prompted quicker Indiana actions.
The governor issued an executive order March 6 declaring a public health emergency. This date coincides with our first announced case of COVID-19. On March 9, the first school system closed. But it was the cancellation of the Big Ten tourney on March 12 that really got the attention of our basketball-crazy state. Something big is up if we are not playing basketball.
That same day, following further decisions by the governor allowing school funding flexibility, Mayor Joe Hogsett announced that all Marion County schools would close on March 13.
On March 16, the beginning of the week that would indeed change America, Indiana announced our first death and then quickly our second. On March 23, the governor limited travel and work to essential services only.
Second, Hoosiers heeded the message. Sure, some people celebrated St. Patrick's Day downtown and continued to gather in public, but quickly we dispersed to our homes, apartments and condos. Hoosiers, I joked, have been perfecting social distancing since 1816, and we shut down activity and large parts of our economy despite significant economic harm.
The next Hoosier distinctive to shine is our excellent health care system. Hospitals shifted patients between and among different buildings to create special zones for COVID-19 cases. Workers changed schedules. When called upon, more than 11,000 retired or prior-career health care workers volunteered under relaxed regulatory requirements.
Accordingly, the projections—particularly from the Institute of Health Metrics and Evaluation—show we have the hospital beds, staff and equipment to care for hurting Hoosiers. This despite having one of the lowest state investments in public health in the nation. This despite having a population older than the national average and more prone to tobacco use. Both age and smoking put one at higher risk for serious complications if infected with COVID-19.
Finally, fourth, we have suffered no significant social unrest. Murders actually went down in Indianapolis for the first few days of the shutdown. Our essential infrastructure is not stressed by this sudden, unexpected shift in use. Cell phones, the internet, electricity, water and sewer all are fine across Indiana as well as most of the nation. Food supplies and fuel are fine, also. There is no shortage of medicine.
What we are experiencing is a profound, massive affirmation of the pro-life ethic of Hoosiers. We value life over commerce, we readily invest wealth and will suffer sharp economic harm in lost wages, closed businesses, stock market declines and potentially declining home values to save lives.
Because of these efforts, the IHME study cited above has lowered our projected coronavirus deaths more than 50% (from 2,440 to about 1,100 at this writing). Hoosiers are indeed pro-life in the best and fullest sense of that phrase.•

Click here for more Forefront columns.
Please enable JavaScript to view this content.