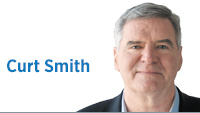 In this political season, I'm frequently asked how I justify supporting President Donald Trump given my Christian commitments and devotion to civil public discourse. My answer is simple, though not all are satisfied with it: Trump is far from my ideal for a president, but he is right for the job. He is right on policy. He is right on personnel. He is right on the politics of our troubled times.
We elect presidents for several major reasons, and enacting policies that keep our nation safe, free and prosperous is at the top of the list. The president has and is doing this with a stronger military, energy independence, an all-government response to COVID, lower taxes, less regulation and vigorous support for religious liberty.
His economic record is especially impressive as we come out of this pandemic and work to jump-start economic growth.
The people Trump has brought into the government are impressive, too. Beginning with Mike Pence and Dan Coats and then adding three justices to the U.S. Supreme Court, who alone will shift the court back to its original job of interpreting laws as passed.
Just isolating on the courts, Trump's faithfulness to nominate conservative, traditional candidates for the federal bench is a remarkable promise made and kept that will lessen culture-war tensions and restore respect for and adherence to the rule of law for a generation or more.
He has kept faith with the social conservatives on this key concern of rolling back abortion and strengthening religious liberty, appointing nearly a quarter of the approximately 800 active federal judges. Many of his appointees are appellate judges, the real workhorses of our national system. His recent nominee to the U.S. Supreme Court is his third, and her confirmation will cement a conservative majority on the highest court.
But often overlooked by Trump's critics and supporters alike is that Trump is a fighter. Yes, he's loud, coarse and sometimes crass. Trump reflects our broken politics. He is not the cause. Some will say I give him a pass on dishonesty or coarse language and behavior. I see those as the outcome of what has been happening in politics for many decades.
We have neither the time nor space here to review the past 50 years of political and presidential failures. But think Bay of Pigs, Vietnam, Watergate, malaise, Monica Lewinsky, failed intelligence, Iran-Contra and, "You can keep your doctor."
Suffice it to say America is a big, loud, unhappy family right now. Trump embodies that angst, but he is neither its cause nor its savior.
We are not electing a pastor in November, but a president. Yes, the presidency was once an example of moral authority. That has not been true of several recent inhabitants of the Oval Office. But neither do we often see such moral examples from Hollywood, Wall Street, the media, Congress or the courts.
The most important square yard of real estate in American politics is not in the Oval Office, nor the well of Congress where bills are introduced and debated, nor the chief justice's chair in the Supreme Court where opinions are handed down.
No, the most important square yard in American politics is where the pastor, the priest, the rabbi or the imam stand to remind us we are fearfully and wonderfully made by a God who cares for us and wants the best for us. That's why we follow the Ten Commandments as a culture and a country. They guide us as we govern ourselves. It's not because we believe our president is the embodiment of those virtues and behaviors. At least not anymore.•
__________
Smith is chairman of the Indiana Family Institute and author of "Deicide: Why Eliminating The Deity is Destroying America." Send comments to ibjedit@ibj.com.

Click here for more Forefront columns.
Please enable JavaScript to view this content.