"Magicians never reveal their secrets" is a time-honored tradition that places illusion above reality.
The same is true for sports events. The impact for athletes, spectators and broadcast viewers should never be diminished by revealing behind-the-scenes occurrences that reflect frenzied activity or loss of control. 
So, I tread lightly into this topic. 
Revelation: Not all sports events are problem-free, irrespective of the athlete or spectator perspective.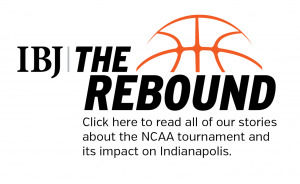 My experience with major sports events in Indianapolis began with the National Sports Festival—39 years ago, in 1982. 
I remember attending my first Local Organizing Committee meeting. For perspective, I had come to Indianapolis in January 1982 after being the venue manager and sports director for nine sports for the 1981 National Sports Festival in Syracuse, New York.
Around the Indianapolis LOC table were young professionals who shared one thing in common: They were not accustomed to failure. But none of them were "sports people"—no athletic directors, no sports administrators, no venue managers. 
My first impression: an impending disaster. Nobody had sports experience! What are they thinking?
The reality: The event was an enormous success, with community leaders who brought vision, passion and commitment. Indianapolis set a standard that every city would emulate when organizing sports events, especially in attracting young, energetic leaders to event organizing committees.
Indianapolis broke the mold by embracing a simple mantra: design events that are in the best interest of the athlete and that enhance the athlete experience.
Thus, the key differentiating factor for Indianapolis sports events is an athlete-centered approach that has been the cornerstone of every event since 1982.
But that doesn't mean that it has been either easy or perfect.
What can go wrong? What problems need to be overcome? Just about anything you can imagine—and more.
Bureaucratic: The 1990 U.S. Open Swimming event at the IU Natatorium had an unexpected visitor—the Marion County Health Department, which declared that our chlorine content was not sufficient and the pools were shut down until rectified. A huge dump of liquid chlorine allowed the pool to open about 45 minutes before the scheduled evening finals. Without quick intervention, our nationally televised event would not have taken place.
Lucky: The 1984 U.S. Olympic Swimming Trials had a requirement that the names of Olympic team members be displayed visibly for spectators, as they made the team. The IU Natatorium, with its physical size and proportional dimensions, created a significant problem. Enter Jay Soule, who was responsible for hand-lettering the draw board at the U.S. Clay Court Championships. I enlisted Jay to create a work of art: the listing of all U.S. Olympic team members on the wall directly behind the diving tower. The "solution" became an icon. To this day, Olympians return with their children, or grandchildren, to see the display of their name, hand-lettered on the wall behind the diving platforms.
Dirty: In the 1990s, Indiana Sports Corp. targeted important cycling events at the Velodrome, including the U.S. national championships. While the Velodrome was an outstanding competitive facility, the daily maintenance and upkeep of the venue at that time left something to be desired. Allison Melangton, who later so capably led Super Bowl XLVI, was responsible for leading a crew to accomplish a deep cleaning of the venue. On hands and knees, with scrub brushes and bleach and an all-night effort, the ISC team was able to create an environment that was conducive to elite cycling competition.
Tragic: The 1986 NCAA Track & Field Championships at the IU Track & Field Stadium had a tragic element. A North Carolina State athlete was hospitalized with a serious spinal injury after she departed the track from her 10,000-meter race and jumped off the New York Street bridge over the White River. No amount of planning could have prepared us for this.
Above and beyond: The FINA World Swimming Championships were staged at then-Conseco Fieldhouse in 2004. Traditionally, at the victory ceremony, the national anthem of the winning athlete is presented. The Indianapolis Children's Choir, over a nine-month period, learned the national anthems of 38 countries, for athletes most likely to win a race. The result was extraordinary: Choir members became "rock stars," even performing (perfectly) the national anthems of Slovakia, Tunisia and Slovenia. To this date, no organizing committee, anywhere, has attempted to duplicate what was done, which makes our "solution" truly remarkable. 
Sports events are rarely perfect, even when they appear to be. Fortunately, Indianapolis has been blessed with local organizing committee leaders, venue operators and sport administrators who have been absolutely committed to athlete-centered competition. This has been our "secret sauce," and it continues to serve well the current leadership of Indiana Sports Corporation, Visit Indy, Lucas Oil Stadium and Bankers Life Fieldhouse.
March Madness, in a concentrated format in Indianapolis, will continue to be spectacular, in large measure because of the traditions established many years previously.
Neuburger is former president of the Indiana Sports Corp.
Please enable JavaScript to view this content.