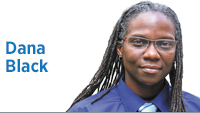 Our nation's deep history demonstrates we have always been divided. We tell ourselves that, as Americans, we are one people. The reality is, we are a collection of different types of people from varying backgrounds, ethnicities and cultures.
This fundamentally simplistic understanding is the beginning of national unification. Often, Americans wish they could go back to the "good ol' days." If uttering those words doesn't instinctually make one ask the question, "good for whom?," then we are not looking at the totality of our nation and are willing only to review the parts found to be palatable.
The American dream is just that—a dream. It is indeed a lofty dream codified by a Declaration of Independence and Constitution. Those documents would become the framework for all who desire life, liberty and the pursuit of happiness in their own way and by their own design.
Granted, the men who drafted the documents never intended for anyone other than wealthy, white, male landowners to have a say in crafting the policies by which we live. They wrote them, nonetheless, and we use them as the base for our nation's dream of a more perfect union.
So, why is it that strong, individualistic humans have a hard time accepting—not simply tolerating—those who interpret the world differently? This includes how we interpret patriotism.
The events of the past six months have drawn a line down the stars and stripes. One sector of American society has decided what patriotism is through its "America First" lens and is unwavering in its conviction. As stated in its platform, "America is a nation with a border, and a culture, strengthened by a common respect for uniquely Anglo-Saxon political traditions." Completely ignoring the contributions of other political traditions, this document gives little weight to how a mosaic of ideas has continued to shape us.
We laughed uncomfortably when Rick Santorum said, "We birthed a nation from nothing. I mean, there was nothing here." He then tried to cleanse his obvious mistake by saying. "I mean, yes, we have Native Americans, but candidly, there isn't much Native American culture in American culture."
This false narrative leads to an articulated document that states, "Even worse, our education has worked to actively undermine pride in America's great history and is actively hostile to the civic and cultural assimilation necessary for a strong nation."
Assimilation was the major reason for forced separation of Indigenous children from their families, genocide and cultural destruction. How could this possibly be good for anybody? Why don't we know this already? Some quickly dismiss this caucus and its rhetoric, thinking the group's exclusionary ideas of America should be viewed as dopey, dimwitted and irresponsible.
This is a whole caucus of elected officials in Washington, D.C., crafting policy for an entire nation of Indigenous and immigrant people. Are these lawmakers capable of writing policy reflective of the whole nation, or just the nation they hope to see? We should question their motives, plus understand there are millions of Second-Amendment-loving Americans standing at the ready.
We shrug it off because, as nuanced thinkers, we recognize the shallowness. However, dismissiveness is dangerous. As Americans commemorated the 100th anniversary of the Tulsa race riot, we should acknowledge that believing only a small sliver of humanity is who we should be as Americans will cost lives.
This is not hyperbolic. How many more mass shootings, street beatings and insurrections must we witness before we recognize the destruction from within and stand up against it?•
__________
Black is former deputy chairwoman for engagement for the Indiana Democratic Party and a former candidate for the Indiana House. Send comments to ibjedit@ibj.com.

Click here for more Forefront columns.
Please enable JavaScript to view this content.