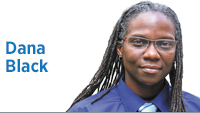 As we celebrate Black History Month, we should take a moment to not just look back on the rich history of Black America, which includes success in all areas of our society despite continued efforts to minimize the citizenship of Black people. It is also imperative to look at the present and how we will shape the future of our nation, because the greatness of Black people isn't limited to the strength required to overcome racism and oppression.
It was with heavy hearts that we said goodbye to an icon of the arts, Cicely Tyson. When the entertainment industry wanted to diminish the versatility and depth of Black actors, Tyson was purposeful in projecting her elegance and grace. In her memoir "Just as I Am" she writes, "I was determined to do all I could to alter the narrative about Black people—to change the way Black women in particular were perceived, by reflecting our dignity." She was the vision many little Black girls with elevated melanin could look to and know there was a place for them in this world.
And just as we were watching this talented American take her final bow, a new shooting star by the name of Amanda Gorman burst on the scene. On the steps of the People's House, which two weeks before had been disrespected, is "where a skinny Black girl descended from slaves and raised by a single mother can dream of becoming president only to find herself reciting for one."
At 22, Gorman became the youngest poet ever to speak at an inauguration, captivating the world when she recited her poem "The Hill We Climb". On Sunday, Gorman will take her talents to the Super Bowl because she believes "bringing poetry in spaces we least expect it" is an important way to use her gift—using words to heal a nation torn at the seams by those who use words to spread division and misinformation.
The impact Black folk have isn't confined to the arts. The pandemic proved more formidable than the previous administration could manage. Solving the problem of COVID-19 would require teams of the world's top scientists. One of those would be a 34-year-old Black doctor named Kizzmekia Corbett—a research fellow and scientific lead at the National Institutes of Health—who has been on the front lines studying Moderna's vaccine, one of the two vaccines shown to be more than 90% effective. With Corbett's efforts, the new administration will have a fighting chance to gain control of this pandemic.
An administration that would not have been possible if not for the tireless work of the Nobel Peace Prize-nominated, Black politician and voting-rights advocate Stacey Abrams, along with other leading Georgia Black women who flipped that traditionally red state to blue. Without that work, Vice President Kamala Harris would not be the first Black/Asian woman to win a national election.
It is quite possible that historians will review 2020 as the year Black Lives Matter protestors took to the streets frustrated by the continued murders of unarmed Black people at the hands of law enforcement with little to no prosecutorial justice, as was the case of Breonna Taylor. It will be juxtaposed with the image of an insurrectionist, terrorist mob storming the U.S. Capitol, brandishing the battle flag of secessionists who warred to keep Black people as property.
They will undoubtably describe how many of the prominent figures fighting for the promise of America were Black people who staked out their place in history.•
__________
Black is deputy chairwoman for engagement for the Indiana Democratic Party and a former candidate for the Indiana House. Send comments to ibjedit@ibj.com.

Click here for more Forefront columns.
Please enable JavaScript to view this content.