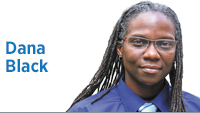 2020 continues to be one of the harshest years of our lifetimes. More than 200,000 COVID-19 deaths, more unarmed Black Americans shot and killed by law enforcement officers without prosecutorial justice. And the frustration of that racist injustice boiling over into unrest in the streets.
All of these situations bring commentary from across the political spectrum with fervor. But one issue that should make every American livid and readily calling out our government's abhorrent behavior is something that has gone largely uncovered—the alleged forced hysterectomies of women detained by U.S. Immigration and Customs Enforcement.
Dawn Wooten, a former employee and nurse at the Irwin County Detention Center in Georgia, filed a whistle-blower complaint alleging high rates of hysterectomies and alleged medical negligence with the Department of Homeland Security inspector general in September. In her complaint, she stated about one gynecologist:
"Everybody he sees has a hysterectomy—just about everybody. He's even taken out the wrong ovary on a young lady [detained immigrant woman]. She was supposed to get her left ovary removed because it had a cyst on the left ovary; he took out the right one. She was upset. She had to go back to take out the left and she wound up with a total hysterectomy.
"She still wanted children—so she has to go back home now and tell her husband that she can't bear kids. … She said she was not all the way out under anesthesia and heard [the doctor] tell the nurse that he took the wrong ovary."
History of human experimentation is riddled with atrocities. We know that prisoners, soldiers, the poor, the mentally ill and—in America—Black, brown and indigenous folk have been subjected to what can only be christened medical malfeasance. From surgeries without anesthesia to clinical trials, the data referencing the gross negligence of governments, scientists and medical professionals is plentiful.
One that stands out: the Tuskegee Studies in 1932, during which the U.S. Public Health Service, in partnership with the Tuskegee Institute, began the "Tuskegee Study of Untreated Syphilis in the Negro Male." The subjects were deceived by our government when told they would be treated for bad blood. In fact, the subjects were injected with syphilis with no treatment.
There is a desire to whitewash American history books for nostalgic imagination, but, as philosopher and writer George Santayana stated, "Those who cannot remember the past are condemned to repeat it." Shame on us for being aware of our dark history and still allowing—through our silence and, in this case, immigration policies—this to happen.
Controlling one's own body is the most basic of human rights. To learn that women—who likely are fleeing oppressive conditions, only to be detained in cages—were subjected to medical procedures without their consent is heartbreaking. In many cases, the detainees didn't speak English well enough to understand what was happening.
In our country, pet owners must sign a release stating they understand the risks involved in the procedure before dogs and cats can be spayed or neutered. We have given more credence to pets than we do human lives.
What is wrong with us?
Apparently, it wasn't enough to separate parents from their children (and, by the way, many still have not been reunited). Now, we sit mute while the barbaric act of altering a woman's body without consent transpires on our watch. We should be outraged beyond belief; instead, we turn our heads because we have lost our ability to humanize those who came to our shores seeking our help.
America, we must be better than this.•
__________
Black is deputy chairwoman for engagement for the Indiana Democratic Party and a former candidate for the Indiana House. Send comments to ibjedit@ibj.com.

Click here for more Forefront columns.
Please enable JavaScript to view this content.