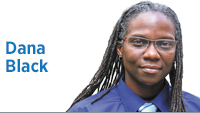 "We've come a long way, baby!" It seems we can hear our ancestors screaming this phrase from the great beyond. In 2020—the 100th anniversary year of the ratification of the 19th Amendment—America has elected its first woman to the executive branch of our federal government. Despite the great divide plaguing our political climate, saying madam vice president brings delectation. During the Seneca Falls Convention of 1848, when women were plotting how they would become enfranchised, did they ever envision the election of a woman to the second highest office in our nation?
Vice President-elect Kamala Harris' win is only the next step in the progression to the promise of our nation's founding. When the crafters of our government penned "all men are created equal," they did not include women or people of color. However, Kamala Harris' biracial heritage provides the visual inspiration that can inspire all girls. That includes Black, brown, Asian and indigenous little girls. The U.S. Constitution and the laws that govern the nation are ever evolving; the desire for "a more perfect union" is an ever-growing tangible reality.
The Democratic Party is pleased about winning the White House and continues to express gratitude to Black women for their contributions to the party's success. One only need look to Georgia as an example. Black women were the leaders of multiple voter registration and protection organizations that lead to changing the political trajectory of that state. The transformation of a state from red to blue does not happen overnight or without conviction.
In 2014, with CEO Nse Ufot at the helm, The New Georgia Project set out "to register all eligible, unregistered citizens of color in Georgia by the end of the decade." In 2016, Latosha Brown, cofounded Black Voters Matter and the Black Voters Matter Fund with the aim to "increase the influence, power, and representation of Black people through effective policy, and to invest in grassroots Black-led groups." And possibly the most recognized Black woman in the fight to flip Georgia, Stacey Abrams, did not hang her head and remain silent after her contentious 2018 gubernatorial election defeat. Rather she displayed the resolve that has existed in Black women since we arrived on these North American shores after surviving the middle passage. She founded the organization Fair Fight to "promote fair elections in Georgia and around the country, encourage voter participation in elections and educate voters about elections and their voting rights," and it became the most recognized voter protection program in the nation. The combination of efforts by these Black women contributed to Georgia voting for a Democratic presidential candidate since 1992.
There are many women from differing political philosophies and demographics who contributed to President-elect Joe Biden's successful bid, including Campaign Manager Jen O'Malley Dillon, whose central focus was reclaiming the "blue wall"; Symone Sanders, a 2016 Sen. Bernie Sanders supporter who helped bridge the gap between Biden and more progressive Democratic voters; and Karine Jean-Pierre, a Haitian-American out lesbian who is a senior advisor and Harris' chief of staff. These are powerful women—and there are plenty more waiting for their opportunity.
Women—including women of color—continue to demonstrate passion for our nation and show willingness to work for America's democracy. While many will continue to say gender and race shouldn't matter, but those are not the people who have had to push incessantly for representation. It is past time to make space for more women in political leadership, especially if winning is the desired outcome. Platitudes are no longer enough.•
__________
Black is deputy chairwoman for engagement for the Indiana Democratic Party and a former candidate for the Indiana House. Send comments to ibjedit@ibj.com.

Click here for more Forefront columns.
Please enable JavaScript to view this content.