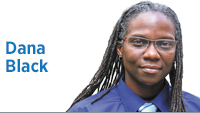 We know the leader of our state has many tasks and duties associated with the role of governor. It is difficult to imagine a duty more important than protecting the lives of Hoosiers as we navigate this brand-new world that requires mask wearing and social distancing.
But as the federal government has mismanaged this pandemic, contributing to more than 160,000 deaths in six months, the desire to return to a normal existence for the sake of the economy could be classified as negligence—a sort of dereliction of the duty to care for the citizens first.
The notion of following the guidance of those who are not adhering to scientific evidence has seeped its way into the minds of Indiana leadership and is impacting the decisions being made on behalf of Hoosiers. Refusing to expand no-excuse absentee ballots is one of those critical decisions.
Not everyone will be infected with this virus, and those who do will have varying experiences. However, surviving the virus is not the only concern. Once one has made it off the ventilator and is virus-free, there is potential for life-altering physical changes for the remainder of one's life.
As reported on July 31 by Jennifer Couzin-Frankel in Science Magazine, some of the lingering effects of surviving COVID-19 can include:
1. Brain fog: Couzin-Frankel reports that difficulty thinking can occur after a severe COVID-19 infection. The virus might damage brain cells, and inflammation can cause neurologic complications. (COVID-19 is not the only virus that can lead to brain fog.)
2. Shortness of breath: Doctors think damage or complications related to patients' lungs and hearts, such as scarring, can make it more difficult to breathe. Couzin-Frankel reports that patients who have the most critical cases are most at risk, but those with milder cases can also have problems with shortness of breath after they otherwise recover.
3. Heart arrhythmia: Couzin-Frankel reports that doctors are concerned about long-term heart damage among those who have more serious cases. "How the heart heals after COVID-19 could help determine whether a patient develops an irregular heartbeat," she writes.
4. Hypertension: Patients with even milder cases of the virus have developed high blood pressure, which could be a result of an attack on blood vessels and heart cells.
Other lingering symptoms include insomnia, vertigo, fatigue, headache, chest pain, chronic cough and joint pain.
Yes, we should all be concerned.
Gov. Holcomb talks about limiting large gatherings in his COVID-19 briefings but seems to ignore the large gatherings that will occur for the Nov. 3 election. With fewer than normal individuals volunteering to work the polls—because those who volunteer are typically seniors, who are at a higher risk—fewer polling places will be open. With fewer polling places open, there will be large gatherings—maybe super spreaders—at those few polling places on Election Day.
Holcomb refuses to expand no-excuse absentee ballots for those who wish to protect their health. It is his responsibility to protect the lives of Hoosiers, but he prefers to force the voter into making the choice between civic duty and health.
Sen. Mike Braun, R-Indiana, had a similar take when offering his opinion on opening schools: "Take a little risk." That is one heck of a risk to ask humans to take. It would be wonderful if we had leaders who cared more about protecting our lives than scoring political points.•
__________
Black is deputy chairwoman for engagement for the Indiana Democratic Party and a former candidate for the Indiana House. Send comments to ibjedit@ibj.com.

Click here for more Forefront columns.
Please enable JavaScript to view this content.