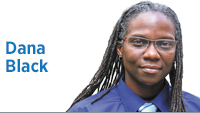 There is no doubt Indiana Democrats took hard hits this election season. We lost races we thought we could win and were blown out of races in which we thought we could be competitive. Being a Democrat in Indiana does have its set of challenges, but that does not mean there is no place for us in this wonderful state. With new leadership coming in 2021, opportunities to display our resilience will be abundant.
Hoosiers face many challenges, and their frustrations with government are palpable. They feel their issues go unheard by the General Assembly. And with Republicans controlling our state government, it is clear who has been ignoring the needs of the people. This is precisely why the Indiana Democratic Party must continue to challenge boldly and hold accountable those who are making decisions in our Statehouse.
Our governor had the opportunity to help prevent nearly 6,000 COVID deaths, while simultaneously keeping businesses open and profitable during the pandemic. It simply required following scientific evidence and creating a mask mandate with penalties.
Yes, we have seen rebuke from those who felt their rights were being infringed upon. Yet, if leadership had articulated the truth about this pandemic, versus adhering to the gibberish coming from the White House, we could have saved lives and livelihoods.
Democrats fought for no-excuse absentee balloting while Republicans didn't want to discuss the option. They seemed to connote little concern about the health and safety of voters looking to perform their civic duty.
Although the general election did not have no-excuse absentee ballots, Indiana did so during the primary. This would not have transpired if Democrats had not argued on behalf of Hoosiers who couldn't afford to be in crowded spaces because of health concerns. However, it is frightening to contemplate how many people contracted COVID-19 on Nov. 3 and thus perished because they stood in long voting lines.
Democrats continue to fight for living wages and provide spaces for collective bargaining, while Republicans continue to destroy unions and keep wages low. On Nov. 20, The Indianapolis Star reported, "Indiana gained more jobs than it lost over a 10-year period stretching from 2007 to 2017, but most of those jobs were low paying. …
"The analysis … indicates that Indiana added more than 181,000 new low-paying jobs during that time while losing nearly 104,000 middle-wage jobs." Republicans continue to propel the narrative of working diligently to bring jobs to Indiana, but their policies also indicate they are working assiduously to keep most Hoosiers classified as the "working poor."
Public-school educators continue begging Republicans to listen to their exclamations for more resources. Ignoring them seems to be some sort of amusement for Republicans. In fact, on Aug. 6, in the middle of a pandemic, Sen. Rodric Bray, R-Martinsville, issued a warning letter indicating "only public schools offering in-person instruction or both in-person and virtual options are likely to be fully funded." Democrats questioned whether that energy could have gone to collect the nearly $69 million lost to virtual schools who fleeced our state.
As Democrats, it is our job to magnify the concerns of the people while concurrently offering tangible solutions. The Indiana Democratic Party is required if Hoosiers want to relish the quality of life Republican leaders fashioned for themselves. We must not be quiescent about harmful policies. Rather, it is important to speak vociferously to ensure all Hoosiers are being heard.
Indiana Democrats might have taken some hits, but we are strong enough to stay in the fight.•
__________
Black is deputy chairwoman for engagement for the Indiana Democratic Party and a former candidate for the Indiana House. Send comments to ibjedit@ibj.com.

Click here for more Forefront columns.
Please enable JavaScript to view this content.