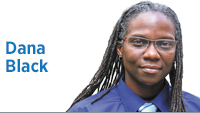 Let it be clear, some Republicans seem to care about democracy only when they win, and will go to any lengths to create chaos in the system when they don't. If you are slightly confused by this, then simply review the actions and words of many of Indiana's Republican elected officials since Election Day.
Gov. Eric Holcomb had the opportunity to speak the truth about evidence-less claims of voter fraud. But, instead, when asked if he supported efforts by Republicans in Congress to challenge Joe Biden's election victory, all he could toss up was an answer so soft that anybody with the ability to hold a bat could have hammered it out of the park. His response? "It's up to them what they do."
He had the opportunity to say the right thing, and he blew it because he didn't want to be on the wrong side of a Trump tweet. What he might have forgotten while cowering in the dark away from the spotlight is that a significant part of his job is to be a leader and to calm the populous by telling it the truth. Nope, not this guy. He wanted no part of being an honorable and upstanding leader for our state. He only obfuscated and was unwilling to make it clear there has been no evidence of widespread voter fraud.
Holcomb is not the lone Indiana-elected Republican who did absolutely nothing to try to quiet the chaos and madness that eventually engulfed our nation's Capitol on Jan. 6. U.S. Sen. Mike Braun joined in on the seditious and treasonous behavior by siding with other GOP senators to reject the Electoral College votes cast on Dec. 14.
"The election of 2020, like the election of 2016, was hard-fought and, in many swing states, narrowly decided," the senators wrote in a statement. "The 2020 election, however, featured unprecedented allegations of voter fraud, violations and lax enforcement of election law and other voting irregularities."
Yes, the list continues. U.S. Rep. Jim Banks proclaimed proudly on social media: "For my part, I will vote to uphold the Constitution and send a message to states that they must adhere to our founding documents' instructions—so I will vote against certification in disputed states."
And let's not forget U.S. Rep. Jackie Walorski, who was so offended that her name had been left off the original list of signatures, she issued a correction to the media letting everyone know she also wanted to be included in any attempted coup.
"I share the concerns of many Hoosiers about irregularities in the way some states conducted the presidential election," she wrote.
Then, when it all went terribly wrong in Washington, D.C., they tweeted.
Holcomb wrote, "It's both saddening and sickening to watch a mob devolve into thinking their rules would ever replace the rule of law."
Braun tweeted, "What we're seeing at the Capitol is wrong, hurts the cause of election integrity and needs to stop immediately."
Banks said, "Peaceful protest is healthy, but what is happening at the U.S. Capitol right now is unacceptable and un-American."
And Walorski tweeted, "Stop these attacks on our country now and keep the protests peaceful."
All these inadequate elected Republicans had the opportunity to be the leaders our state requires—the voices of reason and truth-tellers of an election with no fraud—before the destruction in our nation's Capitol ensued. But instead, they became cowards and helped fan the flames that led to the human explosion in D.C. that included the death of at least one young woman. And those of you who kept quiet, your hands are dirty, too.•
__________
Black is deputy chairwoman for engagement for the Indiana Democratic Party and a former candidate for the Indiana House.

Click here for more Forefront columns.
Please enable JavaScript to view this content.