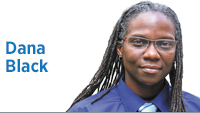 Hoosier Democrats, can we talk? We took a shellacking in this year's midterm election. There are no other words to describe that beatdown.
This is not a knock on the many candidates who went into the streets and campaigned in their districts and counties. Campaigning is not easy, as it requires sacrificing time with your families, friends and hobbies to be public servants. Your work was not in vain; you have no idea how many people were inspired by your presence.
This is not a knock on many county party leaders who did everything they could to get candidates on the ballot. It is not easy getting people to give up time to run a race believed to be noncompetitive or to put up with the social-media-hyped cancel culture and fake tough guys trying to intimidate people that accompany putting your name on a ballot for public consumption.
How many times have Democrats heard that our messaging is bad and that it needs to be something simple? This year we had that: "Democrats Deliver." A great slogan highlighting the popular accomplishments of the Biden administration that include:
◗ Passing the $1.2 trillion bipartisan infrastructure package.
◗ Making a $369 billion investment in climate change.
◗ Ending the longest war in American history.
◗ Cutting child poverty in half through American Rescue Plan.
◗ Capping prescription drug prices for seniors on Medicare.
◗ Giving Medicare the power to negotiate prescription drug prices.
◗ Signing the PACT Act to address service members' exposure to burn pits.
◗ Signing the CHIPS and Science Act to strengthen American manufacturing and innovation.
That's just to name a few.
All these accomplishments actually improve lives, which is what the government should be doing. Yet none of these truths were enough to persuade our fellow Hoosiers to give many of our state and local candidates an honest look.
Indiana could have similar legislative accomplishments if we had a more balanced Statehouse. But instead of talking about how Democrats deliver for communities, we had to fight through the noise to truthfully tell American history.
Instead of having real discussions about the teacher shortage, lawmakers diminish the profession by suggesting anyone with a degree can teach, even without any teaching credentials, and fighting over banning books.
Instead of working to improve infant and maternal mortality rates, we have to argue over whether trans kids should be allowed to participate in sports or if women should have autonomy over their bodies. Republicans do not and have not offered real solutions to real problems and they still beat us.
Hey, AAA credit rating, though. $6.1 billion in reserve while communities struggle.
We have the message, we have great candidates, and we have proven results. So what is it?
Not enough of us are doing the work.
We need to ask constituents what they need before we ask them for their vote or donation, knowing those conversations can be very difficult. Be uncomfortable. Then, we share how our policies address their needs.
We must recruit young people and value our diverse political veterans. Look around your Democratic room and ask yourself, in relationship to your community, who is not in this room?
We must encourage civic engagement by educating communities about the political process because most just don't know.
We must expand our Big Tent, otherwise Indiana will continue to lag behind the rest of the nation in the categories that matter most to people.•
__________
Black is former deputy chairwoman for engagement for the Indiana Democratic Party and a former candidate for the Indiana House. Send comments to ibjedit@ibj.com.

Click here for more Forefront columns.
Please enable JavaScript to view this content.