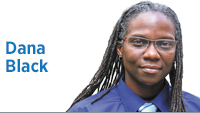 I shouldn't be afraid of law enforcement, but I am. The same people who are sworn to uphold the law with integrity and are paid through my tax dollars can pull me over for no violation, snatch me out of my vehicle and commence beating me to death.
If it isn't caught on video, I'm just dead with no prosecutorial justice. After seeing the video, my fellow citizens will lead the discussion with, "What did she do to make those police officers assault her in the streets?"
Law enforcement should not take such actions against citizens. They are not judge, jury and executioner; they are simply the arresting officers. Other than firing a weapon at police officers, what crime could anyone commit that would warrant taking a life while cameras are rolling? Plus, according to our nation's laws, we are all innocent until proven guilty in a court of law (not on the street).
The video released Jan. 27 of a slightly built, skateboard-loving, sunset-admiring, 29-year-old father, showed that Tyre Nichols was nothing more than an abomination. Five guys wearing a uniform and badge (and who had an average weight of over 200 pounds) had total disregard for Tyree's life and treated him as subhuman.
But the officers were Black, so it can't be about race, can it?
Quick history lesson—and, no, it's not CRT. During the Haitian Revolution between the years of 1791 and 1804, the enslaved Black Haitians who had had enough of being subjugated by their French enslavers crafted a plan to poison the enslavers as a way of gaining an advantage over the well-armed French army. But the revolutionaries knew that, to ensure the plan's success, they would need to poison enslaved Black enablers first. They knew if they didn't poison them first, the enablers might expose their plan and it would be ruined.
Black folks have always known there are some among us who will sell us out to uphold white supremacy. The Black officers that beat Tyree and those who stood around and did nothing to stop it are the enablers.
As some try to explain away the bad behavior of these officers, we hear folks like former New York detective and now Republican congressman Anthony P. D'Esposito tell America on MSNBC's "Morning Joe" how good cops hate bad cops. Then he suggested the reason these incidents happen is because good people who could be good cops don't want to be cops because of all the flak they get from left-wing extremists.
Dang, my bad. I didn't know it was extreme to expect to make it home from a routine traffic stop with my life and limbs intact.
If good cops hate bad cops, then why don't they put them in check? Because they can't. It's the culture. It is a culture derived from the slave patrols—a way to control Black bodies—and it is hard to break. Having worked in close proximity to law enforcement, I have seen amazing police officers whom I could call on in my time of need. But I have also worked with those who are mean and racist for no reason other than they are breathing. The good cops must sit back and keep quiet behind the thin blue line, or else.
Where is humanity? Why isn't there just as much unconditional love for a skateboarding Black father trying to get home as there is for law enforcement? Real reform is needed.•
__________
Black is former deputy chairwoman for engagement for the Indiana Democratic Party and a former candidate for the Indiana House. Send comments to ibjedit@ibj.com.

Click here for more Forefront columns.
Please enable JavaScript to view this content.