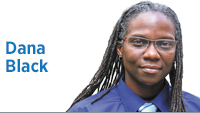 As critical as I've often been toward the Republican supermajority, one law in the legislative session that just ended provided a little hope in what seems to be a never-ending loop of violence against unarmed Black Americans and a continual unearthing of unethical behavior by law enforcement officers to disenfranchise them.
For decades, Black and brown Americans have complained about unnecessary use of force by law enforcement in often over-policed communities, exacerbated by the so-called war on drugs. The increased interaction and the ever-growing militarization of local law enforcement agencies has been a source of tension and mistrust for people whose tax dollars are used to fund those agencies. The communities proclaimed repeatedly that they were not being seen or treated as humans by those who were employed by the government to protect them.
House Bill 1006, authored by Republican Gregory Steuerwald but co-authored and sponsored by Democrats in both the House and Senate, is that legislation. As noted to be a priority of the Indiana Black Legislative Caucus, the bipartisan legislation takes aim at reforming Indiana's law enforcement by requiring de-escalation training and other provisions for officer conduct.
This historic piece of legislation signed into law by Gov. Holcomb comes on the heels of the October 2020 vote by the Indianapolis City-County Council, which is majority-Democrat, to reform the policymaking body of the Indianapolis Metropolitan Police Department. With concerns from the Fraternal Order of Police, the vote prompted backlash from Republican state Sens. Jack Sandlin and Scott Baldwin as they collaborated to introduce Senate Bill 168. Their bill, which was amended in committee and sent to a summer study, would have taken control of IMPD from the mayor and the City-County Council and placed it in the hands of a five-member state board of police commissioners. In a statement to WXIN-TV Channel 59, Sandlin said, "I don't have any confidence in our City-County Council currently for the most part."
The majority of Indianapolis residents elected this council, and they could not have been taken into consideration when SB 168 was written. Sandlin seemed comfortable dismissing the decisions of voters because he did not like the decisions made by the council. This begs the question, when has the state attempted to remove control of local law enforcement from municipalities? The assumption is, Republicans stand for small government and home rule, but it would appear political ideology did not apply to this situation.
Some of us in our society are still proclaiming that it is just a few bad apples creating the problems, which in and of itself is an interesting analogy to use when referencing individuals connected to an entire system. As the saying goes, "One bad apple can spoil the whole bunch," or in this case, the whole system. As history has shown, we are still working as a society to address the individual bad apples and how they police communities they do not originate from or currently live in. HB 1006 looks to address the shortcomings of the system while not reducing control of municipalities.
This legislation is a step in the right direction, but it is not the full solution to the problems facing our criminal justice system and the residents who interact with it.
Obviously, dismissing a democratically elected municipal government entity is not the answer. Creating bipartisan legislation where differing opinions are heard will generate confidence and belief that our government is working for us all.•
__________
Black is former deputy chairwoman for engagement for the Indiana Democratic Party and a former candidate for the Indiana House. Send comments to ibjedit@ibj.com.

Click here for more Forefront columns.
Please enable JavaScript to view this content.