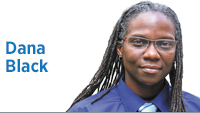 Here we are again, having to address voter access and voter suppression within our democracy. Republican-led statehouses across the nation are up in arms about losing the White House and U.S. Senate. So much so that they want to create additional barriers to voting.
According to a Brennan Center for Justice report, "Legislators have introduced well over four times the number of bills to restrict voting access as compared to roughly this time last year. Thirty-three states have introduced, pre-filed, or carried over 165 restrictive bills this year as compared to 35 such bills in 15 states in 2020." One would think the record number of votes cast during a pandemic would encourage those legislators to look at the policies they put forth versus looking at how to restrict the number of votes cast.
Many of the voting legislative proposals include limiting mail voting access, imposing stricter voter ID requirements, reducing voter registration opportunities and encouraging more aggressive voter roll purges. Indiana is among those states introducing voter-restriction bills even as Republicans won all statewide elections and maintained or increased their supermajorities in both legislative chambers.
Undoubtedly, these bills are being submitted in response to the unfounded, unsubstantiated and judicially disputed lies about widespread voter fraud. More accurately, in many states (not including Indiana) citizens rejected the federal mishandling of the COVID-19 crisis, the harmful immigration policies that separated children from their parents and the blatant fear-mongering embraced by the Republican Party.
Americans (Hoosiers in particular) are struggling, and now is the opportune time to find new and innovative ways to relieve the stress and uncertainty this pandemic has caused. Instead of offering real relief for municipalities, small businesses and individuals, Republicans appear to believe such help is not a good use of tax dollars and would be too much of a burden on the government. Last checked, those tax dollars belong to the people, and the people need the help.
Which speaks to why a majority of voters decided the course of action taken by the previous presidential administration was not the right direction and voted it out. Democrats control the federal government and are introducing a bevy of legislation that could improve the lives of Americans, including:
◗ The COVID-19 $1.9 trillion stimulus bill, called the American Rescue Plan Act;
◗ The Equality Act, which prohibits discrimination based on sex, sexual orientation and gender identity in public accommodations, education, federal funding, employment, housing, credit and the jury system;
◗ The For the People Act of 2021, which addresses voter access and registration expansion, election integrity, campaign finance and ethics.
That last one seems particularly important as the federal government is looking to improve voter security without limiting access, as many states would rather do. Therein lies the problem for Republicans. Democrats are introducing and passing legislation that centers on the needs of the people in their greatest hour of need, while Republicans are fighting tooth and nail to prevent those bills from passing and distributing to the people much-needed assistance.
Republicans can continue to use their energy to restrict voter access if they want, but all that will do is create a much angrier and determined electorate that is willing to do all that is necessary to make sure its voting rights are protected. Imagine March 7, 1965—"Bloody Sunday"—during the social media and information age.
People will turn out, with their First Amendment rights in tow, to peacefully protest in cities and towns near you to defend voter access for all.•
__________
Black is deputy chairwoman for engagement for the Indiana Democratic Party and a former candidate for the Indiana House. Send comments to ibjedit@ibj.com.

Click here for more Forefront columns.
Please enable JavaScript to view this content.