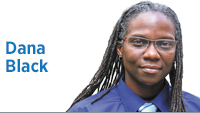 One thing is for certain, we know the Indiana GOP can count to two. How, you ask? Every election season, there is a need to shout about the Second Amendment of the U.S. Constitution. Republicans will argue until they are flush about their right to own as many types of guns as their budgets will allow.
In Indiana, we no longer have to worry about those pesky gun permits because, as of July 1, Indiana stopped requiring a permit to legally carry, conceal or transport a handgun within the state. What could possibly go wrong?
But for some reason, Republicans gloss over the First Amendment. You know, the one that provides that "Congress shall make no law respecting an establishment of religion, or prohibiting the free exercise thereof." It protects freedom of speech, of the press, of assembly, and the right "to petition the Government for a redress of grievances." It appears that, when it comes to citizens who don't align with Republicans' ideology, this amendment does not apply.
This summer, we witnessed women from all corners of our state plead with our General Assembly to vote down legislation that prohibited Hoosier women from gaining access to reproductive health care. "I'm up here today to represent Jesus. I love Jesus more than I love being in the Senate," said Sen. Mike Gaskill of Pendleton. He used his religious understanding to vote against women's rights, while simultaneously ignoring the religious understanding of members of the Jewish community who spoke eloquently about how their faith defines when life begins. Interesting.
Strike 1.
Earlier this month, Republican members of Congress introduced legislation targeting Drag Queen story hours. The Proud Boys, being the tough guys they are, harassed staff at a South Bend library, attempting to prevent the event. They say it sexualizes kids.
HUH?
Did they say that when Milton Berle, Flip Wilson, Robin Williams or Tyler Perry made a living out of dressing as women for entertainment purposes? Actors for centuries have crossed-dressed for multiple reasons, and sexuality was never at play. Wouldn't freedom of expression be a form of freedom of speech? And if you don't want your children to participate, then don't let them. But why do you get to determine what other parents want for their children?
Also, attempting to criminalize the acknowledgement of LGBTQ folk is way more harmful to children than you think. Get over yourselves; we ain't going anywhere.
Strike 2.
The ACLU of Indiana had to file a lawsuit in February on behalf of fellow IBJ Forefront contributor Abdul-Hakim Shabazz against Attorney General Todd Rokita. That's because the supposedly dogged protector of the constitution and highest law enforcement officer of our state barred the journalist from attending press conferences.
To be clear, I don't have much in common with Abdul politically or ideologically, but he is a credentialed journalist, unlike me, and has earned the right to be called the press. But Rokita decided the Brother wasn't qualified. Yeah, OK, I'll let y'all chew on that.
Strike 3.
The Constitution has 27 amendments, but you can't get to them without the First Amendment. It seems many of our elected GOP members don't want everyone receiving the full benefits and protections that amendment provides. For them, it's reserved for those who pray like them, care for their families as they see fit and the press they agree with.
On Nov. 8, Hoosiers should count out those who don't protect the very Constitution they swore to uphold.•
__________
Black is former deputy chairwoman for engagement for the Indiana Democratic Party and a former candidate for the Indiana House. Send comments to ibjedit@ibj.com.

Click here for more Forefront columns.
Please enable JavaScript to view this content.