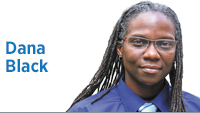 In 2016, Carter Wren, a longtime Republican consultant and a prominent fixture in North Carolina politics, said, "Look, if African Americans voted overwhelmingly Republican, they would have kept early voting right where it was. It wasn't about discriminating against African Americans. They just ended up in the middle of it because they vote Democrat."
I'll ignore the blatant whitewashing of racism and go straight to voter suppression.
Many have known all along the purpose of voter IDs and that the attempt to limit early voting was limiting access to voting. More specifically, limiting access for marginalized communities.
Most politicos know that, when voter turnout is high, it leans left. To keep the electorate from leaning left, many would rather limit access to the ballot box than improve policies. No matter how you slice it, attempting to limit access to voting is un-American.
American history is as complicated as any history. We talk about the freedoms our Constitution grants, but we aren't willing to share how we have often as a nation worked diligently to limit those freedoms to certain groups. We all know we can't solve the problem if we don't acknowledge it exists.
It's Black History Month. So let's go there.
Harry T. Moore, an NAACP activist from the 1930s and 1940s, and his wife, Harriette, were murdered on their wedding anniversary in 1951 simply because he worked to register African American voters in Florida. As is the case in much of American history, some white folk didn't like the idea of granting the power of the ballot to African Americans and thus ended Harry's and Harriette's lives to prevent this from happening. The Moores unfortunately would not be the last to give their lives for ballot equality.
Many of you are not aware of this story because our current history curriculum does not teach it. And many of you will read this and say that was almost 70 years ago, that we are not like that anymore. Yet, when voter suppression tactics are pointed out, many turn a blind eye and bury their heads in the sand. People can't proclaim to be constitutionalists and say they are looking out for the American people if they are working to limit access to the one thing every American has the right to, a right given to them by birth.
Why not strengthen The Voting Rights Act of 1965 instead of weakening it? When Chief Justice John Roberts suggested in 2013 that the pre-clearance system of the Voting Rights Act was outdated because of the gains made by African American registrations, he didn't consider it was that condition that led to the improvements. Once the provision was struck down, a flood of voter ID laws popped up in many Republican-led statehouses, including in Indiana.
The new wave of voter suppression had been ushered in with nary a bat of the eye. Many will attempt to rationalize voter ID laws based on their own existence and experience, without once considering if the requirement could be a daunting task for anyone else. There are countless stories in Texas, Alabama and Georgia of the difficulties faced by American citizens attempting to abide by a law designed to remove their right to vote.
No matter your political affiliation, you should want all eligible citizens to have access to the ballot. Stop being hypocrites and work to increase voter turnout—not diminish it. Work to encourage every American to be involved in our citizen government. It is truly the right thing to do.•
__________
Black is deputy chairwoman for engagement for the Indiana Democratic Party and a former candidate for the Indiana House. Send comments to ibjedit@ibj.com.

Click here for more Forefront columns.
Please enable JavaScript to view this content.