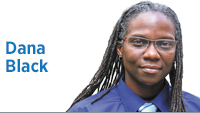 I struggled to determine the direction of this submission because there were so many current event topics, or people, that should be covered: Ginni Thomas, Mark Meadows, Rep. Kevin McCarthy, Don't Say Gay, no-permit carry and book banning.
Trying to focus on just one was difficult, but I have to ask, when will those people be held accountable?
Some people love trees and work tirelessly to protect the rainforest, the redwood forest or any forest at risk. Some people love animals and work to save the whales, save the polar bears, save the koalas. I love humans, and I want to protect humans in my state from policies that are incredibly harmful to their very existence.
How boring it would be if we all walked, talked and acted the same way. We don't need to have identical morals and belief systems to exist as a nation, nor should we marginalize those who don't. Personal responsibility is the mantra for those on the right, just not personal desires if they contradict their belief system. Crafting laws attempting to erase or silence other perspectives is un-American and denies humanity. It seems pleading for compassion and empathy is a waste of time to those hell-bent on maintaining power.
Bad policies don't affect all families in the same way, and it can be difficult to feel the pain being experienced by those the bills target. What is true is that people hate being called racist more than they hate racist behavior. People hate being called homophobic more than they hate homophobic behavior. Most hate being called misogynistic more than they hate misogynistic behavior.
Some policymakers don't spend enough time with a multitude of people of color to learn the impact on our youth when they attempt to omit our real history from our education systems. They don't understand the impact legislation is having on LGBTQ+ youth who are simply trying to exist in a world that can be very cruel. Finally, many don't feel the impact of regressive legislation on women who want to have the final say over their own bodies.
If you are like me, on May 3, you started your day wondering why we are moving back in time. With Politico publishing the leaked Supreme Court brief dismantling 50 years of progressive reproductive rights, it couldn't be clearer that some Americans are allowed to have complete autonomy over their bodies and others are not. The brief looks to side with Mississippi's 15-week abortion ban and aligns itself with Texas' vigilante abortion law. It is not lost on me that this is the same Supreme Court that blocked the Biden administration's requirement that larger businesses require employees to be vaccinated or have a masking and testing policy to protect the living from a pandemic. Is there or is there no body autonomy?
Like I said, there are too many topics to cover in this short submission. But what is certain is that silence and complacency are not an option for those of us in the struggle for all people. We will not sit back quietly as our human rights are being dismantled one by one by individuals who want to control how we think, how we love and how we reproduce. And unlike the insurrectionists, we won't storm the capitol buildings or plot to kidnap a governor. We will organize, march and face our legislators exclaiming, "My human rights and my existence are nonnegotiable!" We will stand in solidarity until you are sick of seeing us.•
__________
Black is former deputy chairwoman for engagement for the Indiana Democratic Party and a former candidate for the Indiana House. Send comments to ibjedit@ibj.com.

Click here for more Forefront columns.
Please enable JavaScript to view this content.