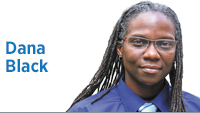 It's Black History Month, that month when we reflect on the great accomplishments of Black folks and their contributions to making America a great nation.
Yet this year, in Indiana, you'd better be careful when you tell that story. A loud minority will have you believe teachers are indoctrinating our students with revisionist history. House Bill 1134 and Senate Bill 167, introduced in this year's General Assembly, are just a couple of pieces of legislation that would penalize teachers and schools who teach history in a way that would make someone feel uncomfortable.
All of this, of course, is nonsense. Only people who aren't able to look at history through nuanced eyes would be unable to deal with the uncomfortableness of some of our nation's raw history. I question anyone who doesn't have the stomach to discuss the truth of our history and whether they should be in a position to write policy that will impact Hoosiers long into the future.
If it causes discomfort to hear about the atrocities committed by American ancestors, just imagine how it must have felt to live through them. That is why we study Black history. It is American history, and not everything about that history is glorious. In order for us to understand the significance of Black accomplishments, we must understand the barriers purposefully put in place to prevent success. Plus, it wasn't just slavery, which so many want to limit their focus on. There was still another 150 years of Jim Crow and state-sanctioned discrimination.
Yet despite all of that, Black folks in this country—after having their original heritage, language and traditions stripped from them—have managed to create a culture so unique the rest of the world often mimics those contributions. Think Korean hip-hop stars. That is what you call having an impact on the world.
However, we are more than entertainers and athletes. We are scientists, scholars and philosophers. We are thought provokers and action seekers in every institution of our society, including being ambitious enough to want to earn a spot on the U.S. Supreme Court. And not just Black men.
Black women, navigating through both racism and misogyny, have been graduating from law school since 1872, when Charlotte E. Ray was the first to do it. From Dorothy Crockett, Blanche E. Braxton and Sadie Tanner Mossell Alexander to Pauli Murray, Barbara A. Dortch-Okara and Deborah A. Batts, Black women have been esteemed legal scholars, practicing attorneys and sitting judges. None more notable than Constance Baker Motley, who successfully argued nine of 10 cases before the Supreme Court. However, it has taken until 2022 for a Black woman to be considered for a vacant spot on our most coveted court.
According to an article from Law360.com published June 23, 2020, the Republican-led Senate confirmed 200 of President Trump's federal judicial nominees. Of those nominated, eight were deemed "not qualified" by the American Bar Association—the most of any president in history and that was only in four years. Oh! For all my racially sensitive readers, President Barack Obama, the lone black president, didn't name any justices to the courts who were considered "not qualified."
The last three justices named to SCOTUS were all white. Now, when President Biden is committed to his promise of nominating a Black woman to the Supreme Court, many are suggesting this is an affirmative-action pick, and the selection shouldn't be about race but about who is the most qualified. Where were these complaints during the previous administration?•
__________
Black is former deputy chairwoman for engagement for the Indiana Democratic Party and a former candidate for the Indiana House. Send comments to ibjedit@ibj.com.

Click here for more Forefront columns.
Please enable JavaScript to view this content.