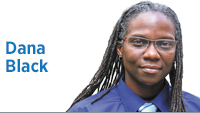 Often, I write about the issues and problems I see coming out of our Statehouse and statehouses around the nation. It is easy to write about these things because bad policies stoke the embers of my passion, and with my words, I hope to stir a little of that passion into the readers.
But even I get tired of talking about what is wrong and not talking about how to fix it.
The idea that we have to fight for our rights is infuriating and makes absolutely no sense to me. If we are required to pay into the nation in the form of taxes, then we should all have equal access to what it provides. It is lost on some that ensuring the rights of others does not take anything away from them. Rather, we have politicians working to erase history or pretend certain humans don't exist.
We even had a sitting U.S. senator suggest the federal government should not have abolished miscegenation laws, that the issue should have been left to the states. Of course, Sen. Mike Braun of Indiana walked back his comments, but it wasn't until after receiving public backlash. He said what he meant. I know everyone has their own agenda, but if your agenda is to hurt and marginalize other citizens, then I question your integrity and commitment to a more perfect union.
Recognizing differing governing philosophies is a significant aspect of this representative democracy. In Indiana, oftentimes, it seems liberal and progressive visions are stamped down with little regard for those who believe in them. Elections have consequences.
That being said, I have not given up on our nation's political process and the ability of everyday Americans to be involved in this citizen government. There are multiple ways to be a positive voice for change in your community, state and nation. And believe me, voting is the least you can do.
Roll up your sleeves and volunteer for a candidate or organization that speaks to your values. If you feel strongly about an issue, don't simply be a keyboard warrior—knock on some doors, write some letters or make some phone calls. If you are not comfortable with any of those volunteer options, simply hand out water to those who are. We all have a part to play; sitting on the bench is not one of them.
Running for office is another way to be involved. Become a candidate or a precinct committee person. You have the opportunity to learn what your community needs and the issues people are most concerned with and then apply them to your platform.
Don't bother worrying whether you are qualified to hold office; we are witnessing daily the ridiculousness of some politicians. Even GOP stalwart Sen. Mitt Romney stated when discussing members of his party: "I have got morons on my team." You are qualified. I know being public-facing isn't easy, but it is necessary to be a voice for a larger community.
There has been a concerted effort to discourage participation, but we can't let those looking to hold on to their power prevent us from having a say in how we are governed. Primary season is in full swing, and there are individuals who have stepped up to put their names on the ballot, decided to volunteer for those campaigns and are donating what funds they can to get their candidate over the top.
You pay to be on the team, so you may as well get in the game.•
__________
Black is former deputy chairwoman for engagement for the Indiana Democratic Party and a former candidate for the Indiana House. Send comments to ibjedit@ibj.com.

Click here for more Forefront columns.
Please enable JavaScript to view this content.