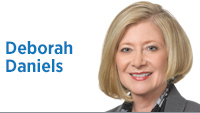 There has been a groundswell of concern throughout the country since the killing of George Floyd on May 25, 2020. The public discourse changed dramatically after that jolt to the collective conscience.
Though it was certainly not the first such incident in our history, in this case, the entire nine-plus excruciating minutes were captured on a young girl's phone—allowing us all to see Floyd's horrible death unfold and view the callousness of his killer. There could be no two ways to interpret what had happened, because we all saw it with our own eyes.
Since that time, Indianapolis has seen many positive steps taken. Hundreds of organizations have addressed unconscious bias with employees. United Way of Central Indiana led a well-attended virtual series of panel discussions titled "Understanding the Roots of Racism" that focused on barriers to the success of people of color. Community leaders introduced an anti-racism pledge that has been signed by a multitude of corporate and not-for-profit CEOs, committing each entity to specific, measurable steps they will take to combat racism and barriers to the success of minorities. The Indiana General Assembly passed bipartisan legislation to improve policing policies.
In the same spirit of identifying and addressing barriers to the equitable treatment of people of color and of diverse ethnic origin, the Indiana Supreme Court, under the leadership of Chief Justice Loretta Rush, has created the Indiana Commission on Equity and Access in the Court System. The commission is chaired by Chief Justice Steven David, and I am honored to serve as co-vice chair along with Norris Cunningham, a distinguished attorney and partner in the firm of Katz Korin Cunningham.
While considerable progress has been made in the ability of Black, brown and other minority populations to participate fully in society, a great deal of work has yet to be done.
In recent months, I have been doing a lot of reading on this topic, including "The Color of Law: A Forgotten History of How Our Government Segregated America," by Richard Rothstein. That book provided a real awakening to me about how government policies over many decades, from the federal level on down and involving both political parties, have not only contributed to segregation in our country, but also caused it—in some cases deliberately. For example, the structure of the GI Bill denied its benefits to returning Black veterans. Redlining was originally official federal government policy.
Given the ample evidence of disparate racial impact of so many government policies and practices over many decades, it would be irrational to assume that our court system does not include some systemic disparities as well. It will be the job of the commission to identify factors preventing full access to and equitable treatment in our courts for all, and to seek remedies to remove such barriers.
The commission will examine and seek to improve the judicial system in a number of areas: collecting and analyzing data, surveying litigants to gain important perspective, and examining court processes to identify ways in which minorities are denied equitable treatment, often simply through ignorance on the part of those designing and managing our court systems.
Members of the legal profession throughout the state will have an opportunity, through this process, to be a part of the solution—to assist in removing barriers to the full and equal participation of all Indiana residents in the court system and moving closer to a fully just society. If we do our job properly, we will come closer to realizing our nation's goal of justice for all.•
__________
Daniels, an attorney with Krieg DeVault LLP, is a former U.S. attorney, assistant U.S. attorney general, and president of the Sagamore Institute. Send comments to ibjedit@ibj.com.

Click here for more Forefront columns.
Please enable JavaScript to view this content.