Wallpaper goes in and out of fashion as much as the length of women's hemlines. I happen to like wallpaper, as it helps dress a room. Rooms look a bit more finished when the walls are covered in beautifully colored wallcoverings.
Wallpaper brings another layer that can be in the form of a pattern, large or small, or a texture that makes an ordinary color seem interesting. I always suggest my clients order a bit more than what is needed. It is a great idea in case you have an area that gets damaged in the future; you can always repair the spot without having to do the entire room. After every job, there is usually some leftover wallpaper. Let's explore the ways that you can use those leftover pieces, whether it's one piece or a couple of rolls.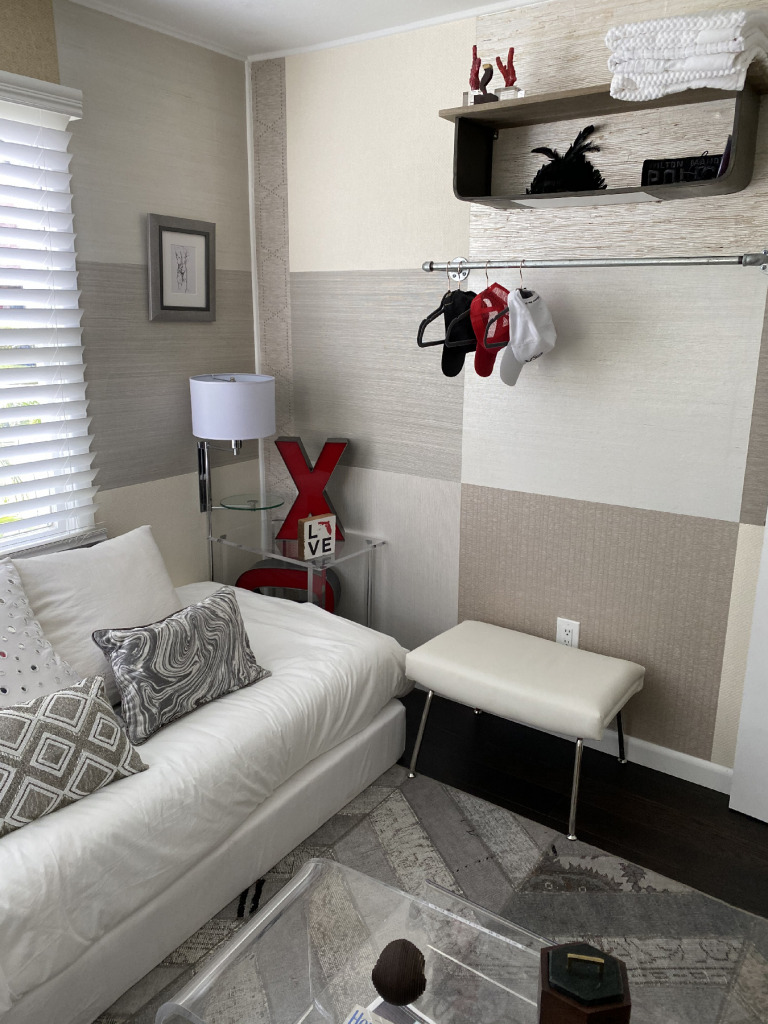 Wallpaper can be used on other items besides walls. For example, a great way to invigorate an antique bookcase or china cabinet is to cover the back surface with a wallcovering that is strongly colored or patterned. This can be done with a stop-you-in-your-tracks wallcovering that may be too much for an entire wall, but as an accent inside a piece of furniture, why not? Another alternative is to line your shelves with a wallcovering. That will always put a smile on your face when putting away your linens.
Believe it or not, lining the insides of your drawers gives a posh feeling to your furniture and, in some cases, can help protect your clothing or whatever items you have in the drawer. Imagine opening up the pencil drawer of a desk and seeing a beautiful pattern that recalls marbleized artisan paper made for fine Italian furniture. But don't stop there; cover your waste paper basket, a small tumbler for holding pens and pencils, and a rectangular board or piece of wood for a desk pad. You will have a bespoke and expensive-looking desk set.
I also recommend using leftover wallpaper to line an old paper lampshade. The most successful shades have been the really unexpected wallpapers—for example, a turquoise and gold geometric print for a white vase lamp. This pop of color and pattern can turn an ordinary lamp into a "wow" accessory in the room.
In my days, I have had rolls of wallpaper installed as wide horizontal bands to emulate the banding of cabana stripes or in alternating vertical stripes, which are reminiscent of a circus tent. I've used grasscloth from Pacific Designs quite successfully for different projects. The possibilities are endless.
My all-time favorite use for wallpaper was in my own cottage, using pieces leftover from at least a dozen different jobs. I asked my installer to do a patchwork of the wallpaper; he looked at me with a puzzled look. He ended up cutting up the various papers into 2-foot squares and then installing them haphazardly. The result was so amazing there hasn't been one visitor who hasn't raved about the effect. After shaking his head at me at first, he has asked me for pictures of this one room. Goes to show you that hoarding in small quantities can be worthwhile.
Joseph Pubillones is the owner of Joseph Pubillones Interiors, an award-winning interior design firm based in Palm Beach, Florida.
Please enable JavaScript to view this content.