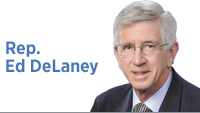 It is widely expected that, by the time you read this commentary, thousands of teachers will have rallied at the Statehouse. They want to demand respect from the Legislature and the governor. In some school districts, the event will be coordinated with an e-learning day.
We can only hope this visit is repeated as often as necessary to get action. The alternative is a continued decline in education statewide and a troubling sorting out of school districts. Some will be in deep decline while others will benefit from local affluence and positive results on referendums designed to fund increased teacher pay.
What the teachers want is respect.
I am a Democrat and a former employer so I understand the role of pay in building job satisfaction. Pay is the only objective measure of what an employer thinks of an employee. Kudos and compliments are nice but they don't pay the mortgage.
When an employee assesses the future, he or she compares present pay with that offered to others in the same line of work and to what is available in different job fields. For all too many Hoosier teachers, the picture they see is far from pretty.
While our teachers followed national pay patterns for decades, they have fallen off a cliff since 2004. We were at least average for decades but that is no longer the case. Instead, we come in last as to pay growth under measure after measure.
This is not a chance event. The Republican supermajority is indifferent to the teaching profession and to the 93% of kids in traditional public schools. Instead, they are enamored with "reform," whether it works or not. They love testing although they fail at it. They are happy to weaken bargaining rights while imposing ever more training requirements on teachers. So other professions or other states attract teachers away from Indiana schools.
There always will be pay differences between school districts. But the growing reliance on referendums to increase pay presents a novel threat. Not only will pay vary increasingly between districts, but the public in individual districts will have to openly declare whether it supports increased pay. Teachers will not be drawn to districts that defeat a pay referendum and they will be in doubt as to their future in districts that do not employ this tool. Everyone will want to teach in Carmel for the pay, if not for the other benefits that community has to offer.
Teachers need to understand a bit of Latin: "repetitio est mater studiorum" or, "Repetition is the mother of learning." The most effective public lobbying comes from constant and demanding presence at the Statehouse. This is the only way to drive the point home that someone besides the funders of the reform movement actually matters.
Teachers need to take turns standing watch at the Statehouse until there is action. They need to shove legislative and gubernatorial delay and excuses aside. Legislative convenience and comfort need to be downgraded. If this results in a dramatic increase in e-learning days, so be it.
Hoosier teachers are not likely to simply walk off the job. They are just too committed to their students. But they have been drifting away for years. We all know they have options and they have been taking them in droves. Our schools of education are in a cyclical decline. So to the teachers I say: Come early and often—we need to see you.•
__________
DeLaney, an Indianapolis attorney, is a Democrat representing the 86th District in the Indiana House of Representatives. Send comments to ibjedit@ibj.com.

Click here for more Forefront columns.
Please enable JavaScript to view this content.