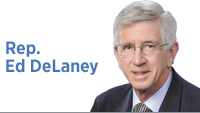 BEFORE
It is Jan. 14, and I am listing some things our governor might say in his State of the State address set for this evening. Hopefully, they are things that matter to Hoosiers, even if they might force some legislative action.
Will the governor say:
1. We need to build up our teaching workforce. So let's support increased pay now and emphasize teacher recruitment.
2. Indiana has ranked at the bottom on health indicators for years. So let's invest in public health initiatives designed to deal with the opioid crisis and to reduce smoking and obesity.
3. Indiana should recognize that it has substantial pockets of poverty both rural and urban. Let's identify them now and direct long-term efforts to changing them.
4. Couldn't we do something about the environment? How about encouraging wind and solar energy sources.
5. Surely we can try to improve local roads with state help.
6. Use of vaping could be reduced by taxing it in creative ways.
7. It is time to increase state funding for higher education to build up our colleges and universities while lowering reliance on student debt.
8. Could we in the supermajority hit the pause button on self-congratulation and turn to helping our people?
My list was frozen in place awaiting the speech. Now, here is what I heard:
AFTER
Well, other than three misses that were hardly near, the governor didn't bring up any of my suggestions.
He did address teacher pay, but put off any relief until the summer of 2021, after his teacher pay commission reports and a new budget is passed. And what did he offer? He proposes another accounting gimmick involving our teacher pension funds. This time, the maneuver would generate $50 million for teacher pay. That is about $800-$900 per teacher payable in 18 or more months.
Sounds like a furniture ad.
This is hardly the "sustainable" funding source the governor insists upon. It is more like an invitation for another teacher rally at the Statehouse. The governor claims he is tired of Indiana being last in teacher pay, but he can't be very tired given his pace.
The governor dealt with the environment—but in a striking way. Rather than backing wind or solar energy, the governor promises to plant 1 million trees over five years. A pleasant, if hardly dramatic, idea. I love trees but don't see this as a strong response to our environmental problems.
The governor at least discussed the vaping and smoking crisis but limited his ideas to increasing penalties on those who sell to underage customers. The supermajority joins him in this narrow agenda that will have little impact. Taxation and regulation can work. Fines won't change anything.
I wish I had suggested, as the governor did, that we put substantial resources into upgrading our state parks. He mentioned putting $100 million into such an effort. Details were left out of the speech, but I use those parks and appreciate his emphasis on them.
The governor showed his human face in two ways. He is pushing for more efforts to train prisoners for real jobs when they leave our prisons. This is good for all our souls. Similarly, he is creating a special unit in the Department of Child Services to facilitate adoptions in appropriate cases. I have only praise for that idea.
A number of the Governor's ideas are positive. But I don't see them as strong enough to take us to the "next level."
Hopefully, the voters will ask more of our next governor.•
__________
DeLaney, an Indianapolis attorney, is a Democrat representing the 86th District in the Indiana House of Representatives. Send comments to ibjedit@ibj.com.

Click here for more Forefront columns.
Please enable JavaScript to view this content.