A Democrat has unseated Republican incumbent Tim Haak to become Zionsville's third mayor.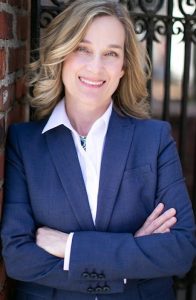 Emily Styron beat Haak, who was running for a second term, by 88 votes in Tuesday's election. Haak was elected in November 2015 to serve as the town's first elected mayor. He succeeded Republican Jeff Papa, who was appointed when the town transitioned to a governmental structure, and did not seek a full term.
Styron, a Zionsville resident since 2000, worked for Republican Indianapolis Mayor Steve Goldsmith and now works for Ivy Tech Community College.
She has said the town's lack of a successful track record for economic and community development led her to step forward as a candidate for mayor. Styron has been critical of progress made in Creekside Corporate Park, where development has been slow since the town invested more than $4.5 million in infrastructure improvements to attract corporate businesses to the area.
Styron also stepped up as town leaders and residents debated a controversial proposal to build apartments and retail at the corner of Sycamore and Second streets in the village. That project was eventually rejected by the town council but likely still bothered voters as they went to the polls. Many residents felt town leaders hadn't been upfront about the project.
Haak previously was a member of the town council and worked for the Indiana Economic Development Corp. His achievements as mayor include hitting a tax ratio that's 80% residential and 20% commercial, a goal first set by the town council 10 years ago, implementing an updated smoking ban in the town's public spaces and assigning a sworn-in Zionsville police officer to each of the town's public schools.
Haak could not immediately be reached for comment, but in a Facebook post he said it has been a privilege to serve as mayor of his hometown, where he has lived since he was a boy.
"I have the deepest gratitude this evening for the volunteers and supporters who gave their time, skills and resources to this campaign," he said in the post. "Zionsville is a better place because you stepped up to the plate."
In a Facebook post of her own, Styron thanked Haak for running a positive campaign. She takes office Jan. 1.
"Over the past six months, this campaign has centered around exchanging ideas and opportunities for the town of Zionsville with as many residents and business owners we could reach," Styron wrote in a post on Facebook. "Tonight, those conversations translated into votes. I am humbled and grateful for the confidence voters have placed in me and am excited to step forward and serve as our mayor."
Please enable JavaScript to view this content.