Five Democratic presidential candidates shared their vision for creating more equality on issues like jobs, wages, health care and voting rights Thursday morning in Indianapolis.
Former Vice President Joe Biden, New Jersey Sen. Cory Booker, Maryland Rep. John Delaney, Minnesota Sen. Amy Klobuchar and Ohio Rep. Tim Ryan separately addressed more than 500 attendees and participated in brief question-and-answer sessions at the annual National Urban League conference at the Indiana Convention Center.
All of the candidates touched on racial divides during their remarks and most of them chose to criticize President Donald Trump rather than their Democratic primary opponents.
"We need to understand we cannot beat Donald Trump unless we have a large, vibrant turnout in the African-American community," Booker said.
Klobuchar also said she thinks it's important to make sure black voters participate in the 2020 election, and she emphasized that voter registration is the key to that. She said she would expand same-day registration and push for automatic registration once an individual turns 18.
"The first thing we need to do is to make sure African-Americans can vote," Klobuchar said.
Biden called for automatic registration and described some of the voter ID laws throughout the country as "an assault on our democracy."
Biden also spent a chunk of his time praising the National Urban League for the work the organization has done over the years on equality issues. The New York City-based National Urban League is a civil rights community organization that works to promote economic and social equality for people of color.
"You're moving the needle on systematic racism," Biden said.
Booker, who made remarks earlier this week targeted at Biden on Twitter and at the NAACP convention in Detroit, made similar comments Thursday morning when discussing racial injustice but did not mention Biden by name.
"Don't just tell us what you're going to do," Booker said. "Tell us what you've already done."
Ryan and Delaney talked about specific areas of inequality that they would address.
Ryan said he believes systems in areas such as immigration, health care and criminal justice are broken and need to be replaced.
"This isn't about left or right," Ryan said. "This is about new and better."
When sharing a story about his upbringing and becoming a business owner, Delaney admitted that he had an easier path than others because of his race.
"But that's just not fair," Delaney said.
He suggested creating a system of not-for-profit banks that would invest in struggling communities.
"Nothing happens unless someone invests in a person, in a community or in a business," Delaney said.
All the candidates were asked about Russia's interference in the 2016 election and what they would do to prevent it from happening again. The candidates shared similar responses—that there's evidence is it already happening again, and that social media networks need to be held accountable to make sure they are doing something to curtail the efforts.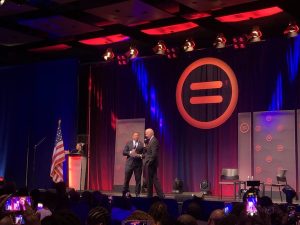 Biden said if any foreign government approached his campaign with information—regardless of whether it would help or hurt him—he would alert the FBI. Trump has been criticized for saying he would be open to receiving information.
"It is outrageous," Biden said. It is un-American. And it's close to treasonist."
On Friday, five other Democratic presidential candidates will speak at the conference—South Bend Mayor Pete Buttigieg, California Sen. Kamala Harris, New York Sen. Kirsten Gillibrand, New York City Mayor Bill de Blasio and filmmaker Ami Horowitz.
Indiana Republicans were quick to criticize the candidates, sending out a statement Thursday morning before any of them took the stage.
"While these Democrats promote radical socialist ideas like the Green New Deal that would balloon the size of government and cost good-paying Hoosier jobs, the Indiana Way is centered on results," Indiana GOP spokesman Pete Seat said in the statement. "Under Republican leadership, Indiana shines with a balanced budget, record investments in education, record infrastructure work currently underway and more Hoosiers working than ever before. We'll let the Democrats keep talking, while Republicans focus on results."
Please enable JavaScript to view this content.