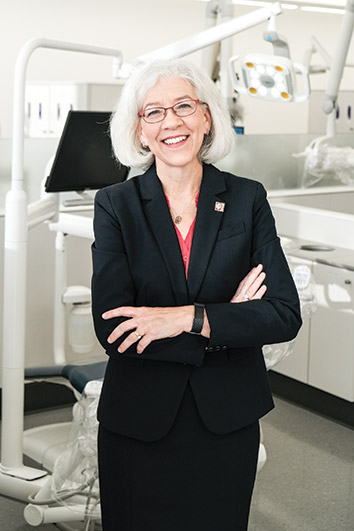 In July, Dr. Carol Anne Murdoch-Kinch became the first female dean of the Indiana University School of Dentistry in its 140-year history. In her new role, she oversees the training of hundreds of students in dentistry, dental assisting, dental hygiene and graduate dental research.
Murdoch-Kinch, 58, comes from a big family of health professionals. Her dad was a dentist. Her mom was a nurse. One brother is an orthodontist, and another is an anesthesiologist. Her sister is a pharmacist.
Why did you want to become a dentist?
My father was a dentist. I had gone into his office as a child from the time I was 6 years old. And just watching him with his patients, by the time I became a high school senior, I decided that that was one of the top three possible occupations for me. I love science. I love working with my hands. But number one, I love the relationships that my dad had with his patients. And I thought, "That's the kind of work I want to do."
According to a recent Harris poll, most people would rather wash a sink full of dirty dishes or clean a toilet than visit their dentist or floss. Why do you think that is?
For people of a certain age, going to the dentist is a bad experience. I think of my mother. She grew up during the Depression, and she didn't have access to regular dental care. She only went to the dentist when she had a toothache. And as a result, she had bad experiences. Then when she married my dad, she had a dentist who took care of her and was nice to her and made sure she was comfortable, so she developed a much better attitude about going to the dentist that wasn't such a scary thing.
You grew up in Canada and went to dental school at Dalhousie University in Nova Scotia. How did you wind up in Indiana?
I had been in private practice in Halifax, Nova Scotia. Then I decided to go back to school to become a radiologist in dentistry. I had a couple of options. And one of them was to come here to Indiana University School of Dentistry to pursue my specialty in oral and maxillofacial radiology.
My husband and I arrived here and spent the next five years here. The first two years, I completed my residency, but then I stayed on to get my Ph.D. The opportunities that were presented to me were so much broader than I ever imagined for myself. And I really credit this school for opening my horizons and really changing the course of my career in a very major way.
What is the status of dental access in Indiana?
Sadly, there are segments of the population that don't have access to dental care. When we look at unmet health needs, oral health is one of the most significant.
If you have a low socio-economic status, you probably have less access to care, either because of availability or there are fewer dentists willing to treat patients who don't have dental insurance or Medicaid and other types of public assistance. And when you get into rural communities, it's just harder to find a dentist.
What's the worst snack food for teeth?
I would say one of the biggest challenges is sugary drinks, including sports drinks and carbonated drinks.
We think of them as being healthy, but sports drinks are full of sugar. And if you're sipping on something like that for a long period of time, not only is it sugary, but it's very acidic. And those are the two greatest risk factors for dental decay.•
–John Russell
Please enable JavaScript to view this content.