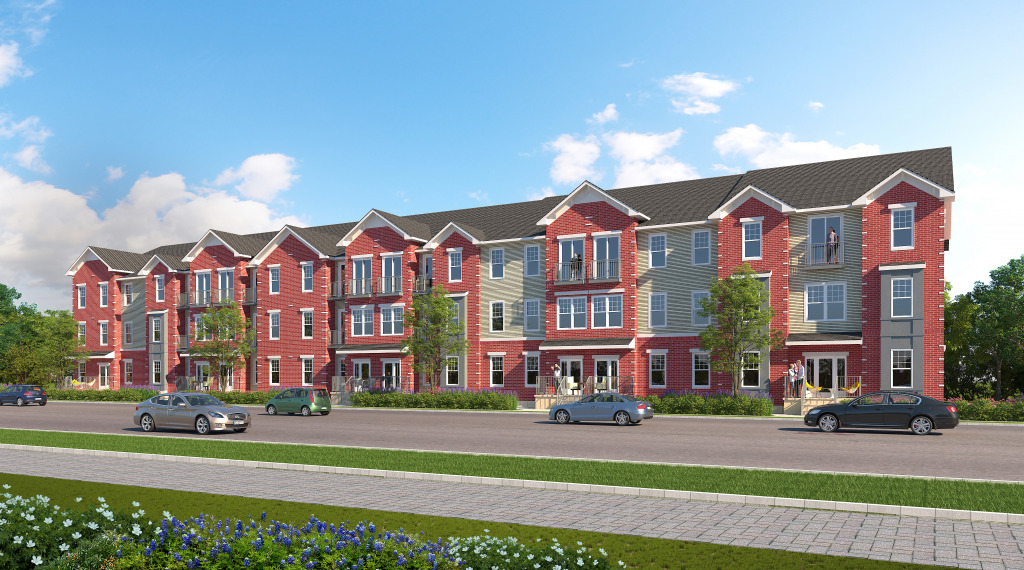 Lebanon's supply of downtown apartments is set to grow again now that the developer behind The Flats of Lebanon has proposed a new $7 million residential project along State Road 39.
Lafayette-based Iron Men Properties has proposed building a 39,270-square-foot, three-story apartment complex on five vacant properties a block north of Lebanon's downtown square. Called The 451 Flats, the project could bring 42 more market-rate apartments to the city if it gains approval.
Joe Blake, a partner with the firm, said his company purchased the combined 1.6 acres spanning 409, 417, 423, 503 and 507 North Lebanon Street/S.R. 39 more than five years ago to advance Iron Men Properties' overall mission.
"Iron Men Properties, from a strategy standpoint, is interested in developing properties in and near downtowns to assist in the revitalization of downtowns in Indiana," Blake said.
The 451 Flats received approval this week from the Lebanon Board of Zoning Appeals for eight variances regarding parking, minimum living space, building setbacks, lighting and more. The project needs to gain approval from the plan commission and city council before construction can start in July.
Iron Men Properties estimates the project will be completed by next spring.
As currently designed, the complex would have 24 one-bedroom, 15 two-bedroom and three three-bedroom units for young and mid-career professionals. Rent, which have yet to be finalized, could range between $950 and $1,750 per month.
"I think, overall, rates are going to be going up with the demand for housing and the new cost of developing housing," Blake said. "Lumber prices are up nearly 200% near where they were last year. It's going to be interesting to see what happens with the pricing of multifamily housing."
One concern shared by members of the board and residents who spoke at this week's meeting was the project's 86 parking spaces. Though the number is in line with what's required, there were concerns about how parking would look.
"The people that live around this property are going to be looking at a used car lot," board member Chad Kyker said. "I'm concerned that, we might be concerned with the beautification and the way the property looks on (S.R.) 39, but we're not as concerned with how it looks in the rear."
The Flats came to be after Iron Men Properties purchased the Memory Hall senior housing building at 315 N. Lebanon St. out of bankruptcy in October of 2013. Blake said his company converted those 59 units into market rate housing the next year. It added eight units to that building and then added two tree-story buildings at 223 N. Meridian St. and 317 N. Lebanon St. in 2016. The company invested a total of $4.2 million.
Altogether, the buildings house 109 units, and Blake believes there's still room for more in the area. He said, up until his company sold The Flats last year, the apartments were fully occupied by young professionals and retirees seeking a quality, simple urban lifestyle.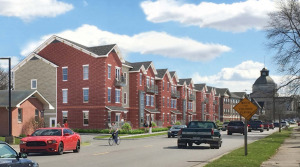 "There were skeptics of anyone wanting to live in downtown Lebanon, but I don't think those skeptics exist today," Blake said. "The proof is in pudding."
Around the time The Flats project was first proposed, Blake heard that city officials had expressed an interest in asking his company to improve the northern gateway to the downtown. He said there were a number of former single-family homes along North Lebanon Street/S.R. 39 that had been converted to multiple units, and they'd fallen into disarray.
Iron Men Properties bought those buildings in 2016 and tore them down. Now, Blake said they'll be replaced with what he sees as the nicest apartments in the city.
"I don't necessarily like the word luxury, but they'll be very nice," he said. "The nicest apartments, perhaps even a step up from what we did at The Flats of Lebanon."
Please enable JavaScript to view this content.