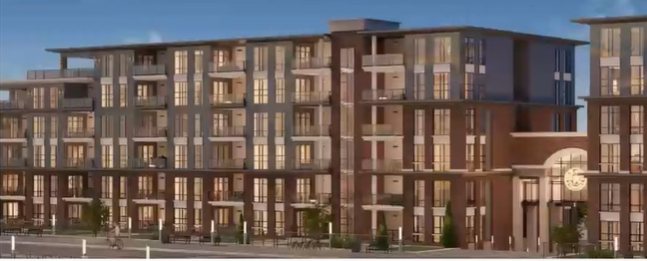 The Fishers City Council on Monday night approved an economic development plan for a $75 million real estate project along the Nickel Plate Trail that would include apartments, condominiums and townhouses.
Fishers-based Village Holding Group LLC plans to build two six-story buildings with a combined 101 for-sale condominiums, a four-story building with 87 apartments and 41 four-story townhouses.
The City Walk development would be built on 16 parcels purchased by Village Holding Group along Lantern Road, south of East 121st Street and west of the Nickel Plate Trail. Several of the parcels will need to be annexed into Fishers.
"This has been a big, big piece of land right in the heart of our downtown that has not been part of our community," Fishers Mayor Scott Fadness told the city council.
The council voted 9-0 to approve a project agreement for City Walk. The developer plans to spend $75 million on the development, with $16.1 million in assistance from the city in the form of tax-increment financing bonds.
Fadness said the project "complements and brings a diversity of housing to downtown and, frankly, elevates the architectural standards for our city significantly."
Larry Gigerich, executive managing director of Fishers-based site selection firm Ginovus, told the council the apartment building would be 127,885 square feet with apartment units ranging from 700 square feet for a one-bedroom unit to nearly 1,500 square feet for three bedrooms.
One condominium building would include 40 multi-story units measuring 2,300 square feet each, while the other would have 61 single-story units that would be about 1,400 square feet.
Townhouses at City Walk would range from 2,500 to 3,000 square feet.
Fadness said City Walk's construction would create easy access to the Nickel Plate Trail for residents of the Sunblest neighborhood.
Correction: A previous version of this story misidentified the agency where Larry Gigerich works. He is the executive managing director of Fishers-based site selection firm Ginovus.
Please enable JavaScript to view this content.