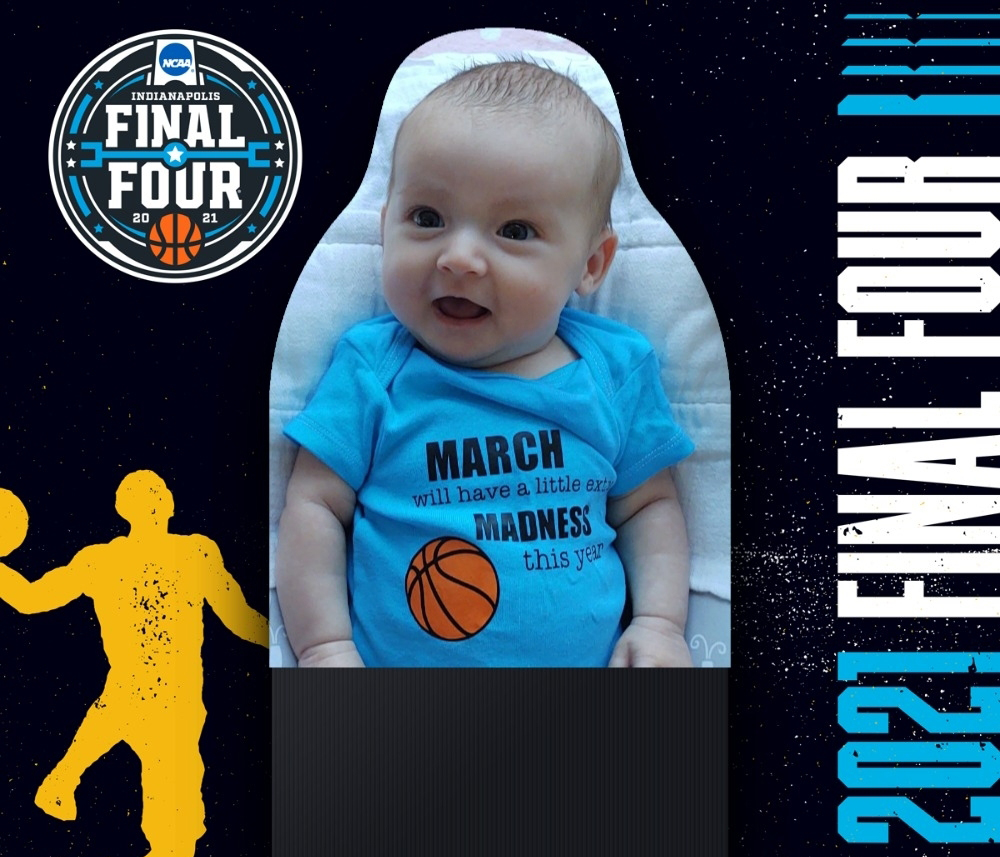 After two weeks in neonatal intensive care and then three months mostly at home, Molly Skolnick will have her public coming-out party on national television at the Final Four in Indianapolis.
And like many of the fans in the stands on Saturday and Monday, Molly will be inanimate.
The feisty 3-month-old from Carmel will be represented by a large cutout occupying one of the seats in Lucas Oil Stadium. With attendance at the Final Four limited due to the pandemic, the NCAA has offered fans the opportunity to buy picture-personalized cutouts to fill empty seats, with proceeds going in part to local charities.
"Her personality is such that she wants to be a part of everything," said Molly's mother, Franci Skolnick, which she says might explain why Molly decided to leave the womb five weeks early. "She has a fear of missing out."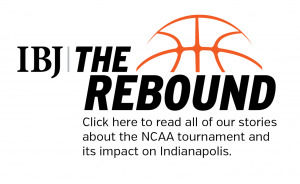 "It seemed like a fun opportunity," said Molly's father, Michael Skolnick. "We happened to see something about the program on one of the news channels. And we had been talking about whether there was something creative and fun that we could do for April Fools' Day.
"There are a lot of Molly's family and our friends who haven't been able to meet her yet because of the pandemic, so we told them that they might be able to see her at the Final Four games. Of course, they thought we were kidding."
The Skolnicks submitted a picture of a grinning Molly wearing a onesie reading "March will have a little extra madness this year."
Molly's unexpected debut on Dec. 21—Franci's water broke while she and Michael were shopping—was appropriately emblematic of a topsy-turvy year. Molly was delivered at IU Health North five weeks early, and stayed in the neonatal intensive care unit for two weeks before being cleared to head home.
"She wanted to be a part of 2020," Michael said. "It was very fitting with how crazy things had been that year."
An NCAA spokesman told IBJ on Saturday morning that there would be more than 4,000 cutouts in use Saturday at Lucas Oil Stadium. The NCAA also offered fans the opportunity to place cutouts in San Antonio for the women's Final Four.
The price of each cutout was $100, with a discounted price for students of $50. Proceeds from the men's Final Four cutouts will benefit the United Way of Central Indiana's COVID-19 Recovery and Rebound effort and Hilinski's Hope, an organization that supports student-athlete mental health and wellness.
According to the NCAA, at least one fan is using the cutout program to keep an attendance streak alive. Chris Korth of Kansas City, Missouri, has attended every men's Final Four since he was a Creighton student in 1981. He had no chance of attending this year due to recent cancer-related surgery, so his family bought him a cutout.
Cutouts of a number of doctors and registered nurses will allow those fighting the COVID-19 pandemic to be present.
Jennifer Marra told the NCAA that she purchased a cutout of her 86-year-old mother, who works in intensive care and is the oldest licensed nurse in Connecticut.
"She's a rabid Huskies fan who talks about Geno (Auriemma, the University of Connecticut women's coach) like he's a member of our family," Marra said. Unfortunately, UConn lost to Arizona in a semifinal upset on Friday night.
The Skolnicks were happy to contribute a strong-willed and inquisitive infant—who has been watching March Madness game on TV and already has learned to roll over—to the mix.
"It's great that there can still be things that bring happiness and joy," Michael said. "That they are donating proceeds to charity makes it a win-win."
Please enable JavaScript to view this content.