Thousands of people flocked downtown Saturday afternoon and evening amid first round action in the NCAA Men's Basketball Tournament, leading to extensive wait times for several prominent restaurants.
Crowds took over most of Georgia Street, as well as parts of Massachusetts Avenue at the Bottleworks District. And several restaurants, including Harry & Izzy's, St. Elmo and The District Tap, had wait times exceeding two hours throughout the day—if they had any availability at all.
One of the biggest challenges for sports bars like Kilroys and District Tap is that most people are sticking around for multiple games, rather than leaving after they finish eating, restaurateurs said.
"It's a little busier than usual, said Jeff Huron, general manager of The District Tap. "When people sit down, they want to watch several games in a row, so instead of rotating after one game and a couple hours, they might sit for six hours—which is great, but it makes our wait time that much longer."
The restaurant operated at its maximum capped capacity—75%—from the time it opened, with 100% occupancy throughout the day for its outdoor seating.
Patrick Tamm, president of the Indiana Restaurant and Lodging Association, said he was hearing "good things" from restaurants throughout the downtown corridor.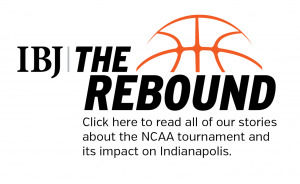 "Restaurants are very busy, particularly core downtown, where we're seeing some nice activity," he said. "It's a nice day. So we're seeing a lot of additional (restaurant goers)."
Buffalo Wild Wings had a shorter wait time of about 30 minutes to one hour from late afternoon to dinnertime, a host told IBJ. And St. Elmo had a lengthy wait list by mid-Saturday afternoon.
Lexington, Kentucky, resident Liam Ronan was part of a group out looking for a restaurant that could seat it faster than two hours. The men were in town to attend multiple games, including the U.C. Santa Barbara-Creighton game.
"We're going to check a couple different places—anywhere we can get some lunch and drinks before the game would be great," Ronan said.
While no one in the group has connections to the Gauchos program, they'd snagged some team apparel and hoped to will the 12-seed to a victory—which very nearly happened (the Gauchos fell short, 63-62). The fate of the men's lunch hopes wasn't quite as clear when they took off toward Monument Circle.
The same bustle was visible throughout downtown, including the Bottleworks District, where hundreds gathered to take part in a viewing party. And downtown, most walked around without masks, only to put them on to enter restaurants, game venues or retail stores, as is required.
But most visitors who spoke with IBJ said they felt comfortable with the crowd size, and the precautions that were in place, including Ronan.
"I think people are taking it seriously enough, where I don't think anything bad's gonna happen," he said.
Greg Frauenheim, a downtown Indianapolis resident, managed to get into District Tap with a group of about five friends after about two-and-a-half hours—and a trip to another downtown restaurant, the Slippery Noodle. He didn't have tickets to games but said he may try to get some for Sunday's sessions.
He said having people downtown is a big shift from how things were during the pandemic. But the shift is welcome.
"People are being safe, I think," he said. "I feel comfortable … being around people, especially in an outside environment where there's fresh air and everything."
Please enable JavaScript to view this content.