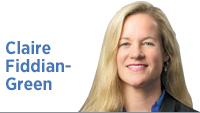 Recent headlines about a mysterious vaping-related lung illness that has resulted in the deaths of at least 26 people in 21 states—including three in Indiana—have riveted the nation. To date, 1,299 cases have been reported of lung injury associated with the use of e-cigarette products.
The CDC has still not determined the cause(s) of this illness, which appears to be associated with both THC- and nicotine-containing products; the agency's current guidance is to avoid e-cigarette use. Adults who have switched from combustible (i.e., traditional) cigarettes to vaping in an effort to make a healthier choice are encouraged to try evidence-based treatments, such as nicotine replacement therapy, in order to quit altogether.
Especially worrisome is the rapidly rising rate of youth vaping. A recent survey shows e-cigarette use among Indiana high schoolers increased more than 380% from 2012 to 2018. What's particularly troubling is that many students inaccurately believe vaping is not harmful. And in yet another sign of the enormous power of social media to influence people's beliefs, Congress is currently investigating whether millions of bot-generated social media posts have been misleading young people about the safety of nicotine and e-cigarettes.
While we must continue our efforts to address youth vaping, we can't forget about the far more deadly consequences of smoking. This is especially critical given strong evidence showing children and adolescents who vape are significantly more likely to go on to use traditional cigarettes.
Nearly 22% of Hoosier adults smoke, and every year more than 12,500 Hoosiers die from smoking-related diseases. A key point is that nearly nine out of 10 adult smokers started smoking by the age of 18—that's why the spike in youth vaping, and the link between vaping and combustible cigarettes, is so alarming.
And the bad news surrounding tobacco use continues. America's Health Rankings just released a report showing Indiana ranks 35th out of 50 states for the health of Hoosier women and children. The data tell a troubling story: Indiana ranks 48th in the country for maternal mortality and 43rd for infant mortality. Perhaps to no surprise, smoking is a key contributor to both maternal and infant mortality. In fact, Indiana ranks 42nd nationwide for tobacco use during pregnancy and 43rd for the percentage of children who live in households where smoking occurs.
Tobacco use also costs taxpayers. For example, a recent study examining Hoosiers on Medicaid found smokers have 51% higher monthly Medicaid expenditures than non-smokers, which translates into $540 million in smoking-attributable health expenditures annually. Just imagine what wish-list items the state budget could fund if we didn't incur the state-level portion of these annual smoking-related expenses.
The solutions to Indiana's high adult smoking rate and youth e-cigarette crisis are clear and backed by strong evidence.
First, years of data from across the United States show that when the price of nicotine-containing products increases, consumption decreases. This is particularly true for the most price-sensitive individuals, including young people.
Second, raising the minimum legal age to purchase tobacco and e-cigarette devices to 21 would make it harder for young people to buy vaping products and cigarettes. Younger students who vape or smoke explain how easy it is to access vaping products or cigarettes from students who are 18 and older.
As we focus on the youth vaping crisis, let's not forget about the significant dangers of smoking. A comprehensive approach to ending nicotine use in Indiana must address both e-cigarette and traditional cigarette use.•
__________
Fiddian-Green is president and CEO of the Richard M. Fairbanks Foundation and a former adviser to then-Gov. Mike Pence on education issues.
Send comments to ibjedit@ibj.com.

Click here for more Forefront columns.
Please enable JavaScript to view this content.