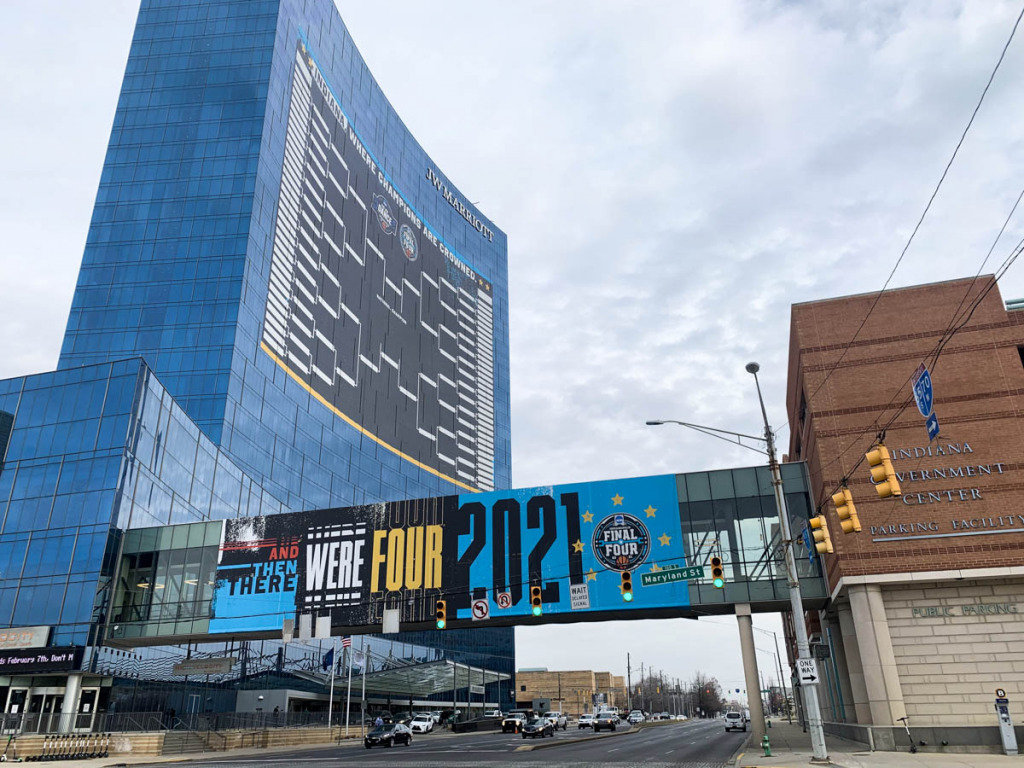 With thousands of visitors in town for the NCAA basketball tournament and other athletic events, occupancy rates at downtown Indianapolis hotels were the highest in the nation for the past two weekends, breaking the pandemic tourism setback that settled in a year ago.
Last weekend alone saw just more than 96% of downtown's nearly 8,000 hotel rooms occupied, according to hotel data firm STR. That outpaced even warm-weather destinations during the peak of spring break, including Tampa, Florida, where occupancy was 88%.
Downtown Indianapolis occupancy was about 88% the weekend prior, with a full-week average of 50.5%. Those figures were driven largely by the Nike Mideast Volleyball Qualifier tournament, along with fans in town for the Big Ten men's and women's basketball tournaments and teams starting to arrive for the NCAA Tournament.
The NCAA Division I Men's Basketball Tournament—being played across six venues, including four in Indianapolis, one in Bloomington and another in West Lafayette—resulted in about 74.2% occupancy for the entire week of March 15 to 22 for the city's central business district, according to STR.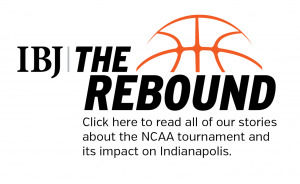 That compares with an occupancy rate of 8.6% for the same week a year ago, the very week the  city and state issued stay-at-home orders amid the pandemic.
Some hotels, like the JW Marriott, the Marriott Downtown Indianapolis and the Conrad all shut down temporarily because of record-low occupancy rates a year ago.
Leonard Hoops, president of Visit Indy, said the figures far exceeded local expectations.
"It's hard to do any better than what we did this first weekend," he said. "And, all things considered, Indianapolis did as well as could possibly have been done."
The NCAA Tournament saw about 111,000 spectators attend games during the First Four and first and second rounds, with some individuals attending multiple games.
The average daily rate for rooms in the city last week was about $128, compared to about $119 the same week last year. And revenue per available rooms—a key indicator for market health—was leaps and bounds better, at $95 compared to $10 in 2020.
During this year's Big Ten tournaments, the average daily rate was somewhat higher than during the first week of NCAA action, at $151—also about $21 lower than a year before. But the figure for last week is likely brought down by negotiated rates for the NCAA, which booked the entirety of five hotels—including the city's two largest—to house teams and support personnel.
In Marion County, the overall occupancy rate for last week was 65%, and 54% for the week before. The entire metro area saw similar rates, at 62% and 54%, respectively.
Please enable JavaScript to view this content.