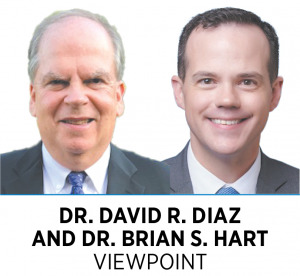 Hoosiers worry about the cost of health care—a Bellwether Research poll found 31% want lower health costs to be legislators' No. 1 focus in 2023, well ahead of any other issue. And physicians and nonphysician providers want Hoosiers to receive the best possible care. Yet legislators have introduced bills that, in the name of achieving these goals, would undermine both of them.
A Senate committee is considering Senate Bill 371, which would lift limits on the tasks advanced practice registered nurses in the mental health field may perform independently of psychiatrists. Two other bills would grant independent practice authority across all medical specialties.
The notion of reducing costs by turning to less-experienced providers is seductive. But studies find these changes have pushed costs up instead of down, while confirming long-standing warnings about the effect on quality of care.
A Stanford-led study of the VA policy change reviewed emergency-room data from the start of the new approach in 2017 through 2021. That study found the expanded reliance on nurse practitioners cost the VA an additional $74 million a year—despite one of the primary rationales for turning to nonphysicians: lower pay. The study's authors are blunt about why: Physicians' training and experience makes them more effective at diagnosing patients, while nonphysicians were more likely to hedge their judgments through additional and costly measures, including more orders for CT scans, X-rays and referrals to specialists.
In Hattiesburg, Mississippi, the Hattiesburg Clinic, one of the state's largest accountable care organizations, quadrupled its roster of nonphysician providers to address a "dire" physician shortage.
After reviewing 10 years of data, covering more than 200,000 patients, the clinic reported in 2022 that patients assigned to nonphysicians as their primary care provider paid an average of $515 more per year. More important, the review found advanced-practice providers underperformed doctors on nine of 10 quality-of-care metrics. Nonphysicians' patients were 2% more likely to end up in the emergency room and slightly more likely to land in the ER than patients with no primary care provider at all. Physicians receive 10,000 or more hours of clinical training before they begin to practice; psychiatrists, the subject of SB 371, receive 12,000 to 16,000 hours. Nurse practitioners' clinical experience is 500 to 720 hours.
Those thousands of hours generate true cost savings, by placing patients in front of professionals with the experience to provide the right treatment, for the right condition, at the right time.
Indiana's scope-of-practice parameters can be improved while delivering patients more affordable and experienced care, not less. SB 400 would require hospital emergency departments to be staffed 24 hours a day with at least one physician.
In addition, nursing associations have argued that required reviews of nonphysicians' patient records by a supervising physician are too infrequent and rudimentary to deliver meaningful benefits. The ISMA endorses more thorough collaboration.
Such changes are consistent with Indiana's existing care model, in which nonphysician providers focus on wellness and preventive care as part of physician-led teams, rather than taking independent responsibility for patients. States and facilities that have sought a looser approach have found they pay a disappointing cost in both dollars and health outcomes.•
__________
Dr. David R. Diaz is a psychiatrist and president-elect of the Indiana State Medical Association. Dr. Brian S. Hart is past president of the Indiana Psychiatric Society, one of 14 member organizations of the Indiana Physician Coalition, which works to educate legislators on the importance of Indiana's scope-of-practice rules.
Please enable JavaScript to view this content.