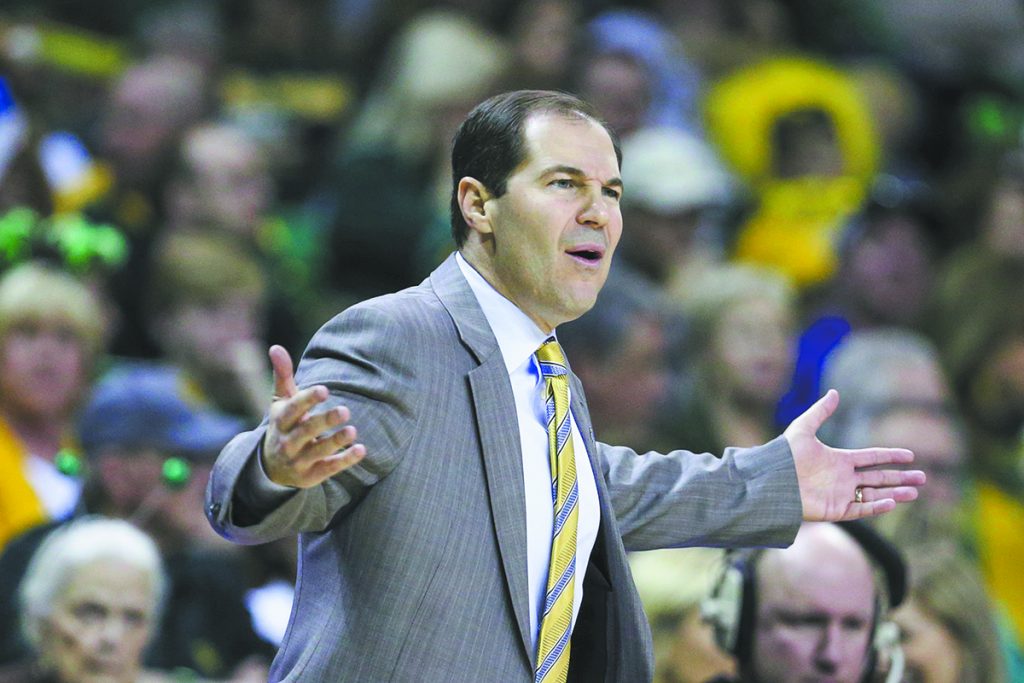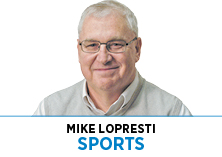 Baylor is No. 1 in college basketball. Maybe that doesn't fry your bacon, but it certainly does for the man on the phone, who was once the hottest name in Valparaiso since Orville Redenbacher.
Homer Drew is on the line, answering questions about his life. He's the guy who coached Valpo to seven NCAA Tournament bids. Is it true, for example, that when he was informed last year about being inducted into the National Collegiate Basketball Hall of Fame, he neglected to tell his family, who didn't find out until the official announcement? Well, yeah. "When you're 75 years old, you forget things," he says.
And is it true he's now living in Nashville, Tenn., helping his son-in-law coach his grandsons in high school? Well, yeah. "He's been awful kind to me, to let me say, 'I think you're being a little too hard on my grandkids.'"
And is it true it's really been nearly 22 years since he drew up a last-second play for his son Bryce to hit a buzzer-beater and upset Mississippi in the NCAA Tournament, and that shot still gets replayed every spring, as one of the signature moments of March Madness? Well, yeah. "To show you what a really good coach I was," he says, "after that shot was made, I thought, 'No one will remember it next year.' But we get to relive it every year."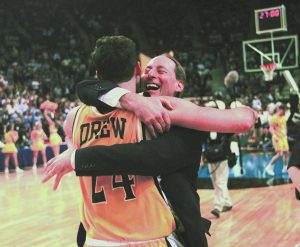 Drew still has a framed Sports Illustrated picture at home of Bryce taking the shot, with him and his other son/assistant coach, Scott, watching in the background. The photo is very special to him, but it's displayed in his office, not near the front door, as you might expect. "When you enter," he says, "you see our eight grandkids."
Most pertinent to the moment, is it true he's become one of the nation's most fervent Baylor fans? Oh, yes. At last check, the Bears were 21-1 and No. 1 in the land. Doing the coaching is Scott Drew, just as he has been every year since 2003, when he left Valpo to take over a Baylor program in shambles from a scandal so bad, the NCAA didn't even allow the Bears to play non-conference games one season.
In the 17 years since, Drew has revived the Baylor program and led it to its first two Elite Eights since 1950. Twice, the Bears have been No. 1. He has done that without once being named Big 12 coach of the year. But the man on the phone understands the job his son is doing, and how it all began, with the Bears so deep in the NCAA doghouse, you couldn't find them with a search party.
"When he asked about taking the job, I thought it was a great opportunity for him because there was only one way to go, and that was up," Homer says. "I can remember my contract at Valparaiso University was one page, and his was, like, 26 pages. The nice thing is, we constructed it to where his contract would not start until after the NCAA penalties were all lifted from the former staff. So it gave Scott time to build it.
"I knew when he was very young that he was going to be a wonderful coach. He was always a hard worker. He was a really good recruiter, from the standpoint that he enjoys people. He's good at talking with grandmothers and grandfathers and he's good with talking with students. You could see he was a natural at coaching."
Scott graduated from Butler, with intentions to go into law, and Homer can still remember the day his son came home during his senior year to tell his father he wanted to get into coaching.
Said Homer, "That's wonderful. After you get your law degree, then why don't you try coaching?"
Answered Scott, "No, no, no. I would like to try coaching now."
Nearly 30 years later, Scott Drew is No. 1. Homer—whose other son, Bryce, and daughter, Dana, have also coached—sees some games in person, others on TV.
"It's really hard to watch your son coach, or your daughter. I think I'd rather be coaching because I get more nervous watching the kids coach. I'll pace some, definitely to the kitchen and the refrigerator and the snack food, which is bad.
"But what is really special to me is, I'll be watching Scott's games and I'll say, 'OK, you need a timeout.' And he'll call a timeout. Or I'll say, 'You need to get so and so in the game.' And he does. Then he makes me feel better that at least we think alike."
Homer is now an expert on Waco, Texas—home of Baylor. "I can take you to anyplace you want to eat. I can take you to many fishing spots," he says. He and Scott and Bryce have shared fishing trips all their lives, from Alaska to Mexico, competing as fiercely as they would if the lake had two hoops and an orange ball.
Which begs the obvious question. Who has the biggest catch?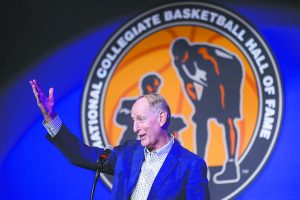 "I'm glad you asked that now," Homer says. Three years ago, Dad landed a 10-pounder, to move into first and is still there. By rules of the game, the sons had to pay to have the fish mounted. "You would see that on our wall, too."
It has been a wonderful family life, but not without challenges. Coaching can be mean. Bryce fashioned his own good coaching record at Valpo replacing his father, but then moved to Vanderbilt, where things didn't go well. He was fired after last season, and now does TV work.
"We still get—Scott, Bryce and I—a lot of times on three-way and talk about how Baylor's doing and what are the next steps for Bryce. I feel very blessed that I have a family that enjoys sports, and they enjoy it because they love it, not because their dad pushed them, because I never pushed them in any direction."
Life can have its curves, too. In 2012, Homer and wife Janet were diagnosed with cancer within three days of each other. The coping goes on. "Janet has a great deal of faith and courage and she's still fighting some issues, but she's been doing well. I feel good and get to play with the grandkids and play a little pickleball and tennis."
Obviously, he has next month planned—to follow Baylor through the NCAA tournament, however long the journey lasts. Imagine a father's pride in full gallop, if he could watch his son coach in the Final Four. Especially a father who knows something about the magic that can come from March.
"Awesome, majestic, dream come true," he says of the possibility. "You look at the bigger picture, it'd be great for those kids and it'd be great for Baylor University. It brings unity to a school and all the fans. This is amazing—20 years later, I still get Valpo alums saying, 'I can remember exactly where I was when I saw the shot.'"
Homer Drew can remember where he was, too. He still has a picture to prove it, not far from the big fish.•
__________
Lopresti is a lifelong resident of Richmond and a graduate of Ball State University. He was a columnist for USA Today and Gannett newspapers for 31 years; he covered 34 Final Fours, 30 Super Bowls, 32 World Series and 16 Olympics. His column appears weekly. He can be reached at mjl5853@aol.com.
Please enable JavaScript to view this content.