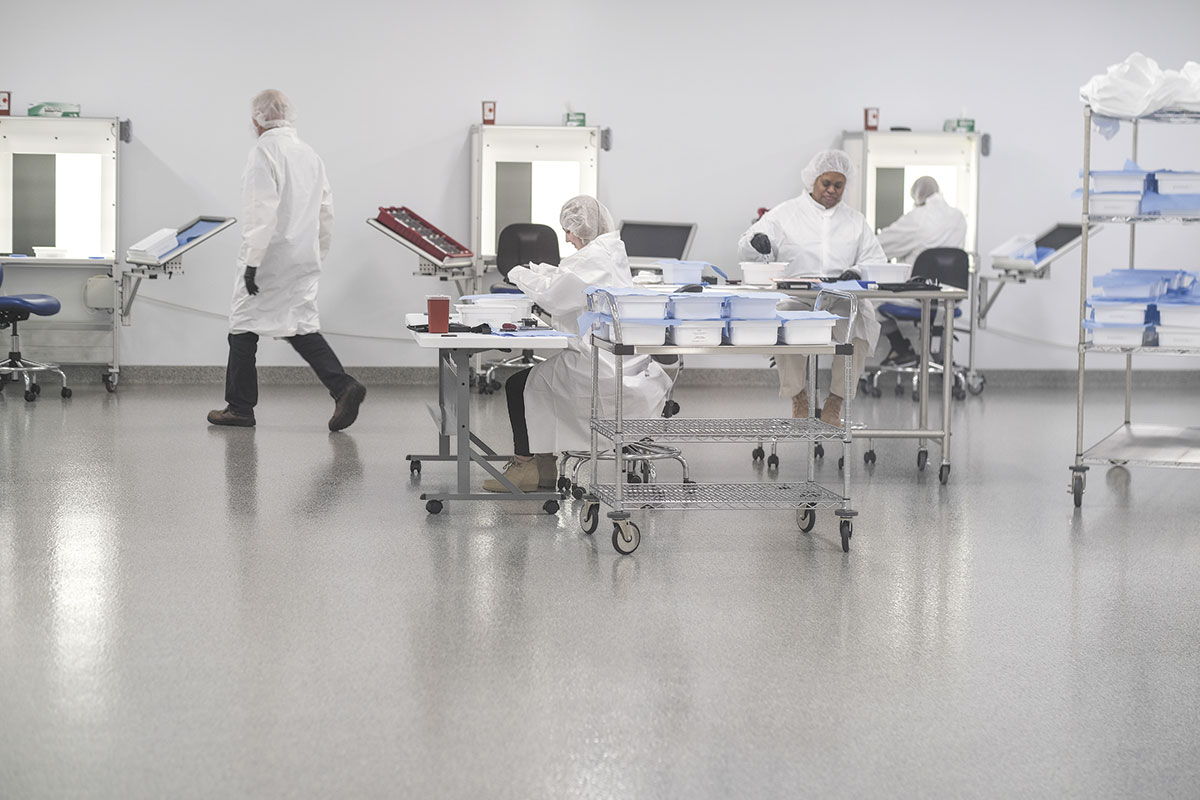 It doesn't have its own products, research laboratories or television commercials.
Instead, Fishers-based INCOG Biopharma Services Inc., one of the newest players in the $132 billion contract drug manufacturing industry, acts as a behind-the-scenes player for companies that need to get sterile injectable medicines to market in a hurry.
Sterile injectables represent a wide range of pharmaceuticals, from flu shots and vaccines to insulin shots and cancer treatments.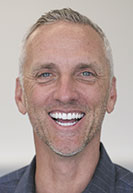 "We take the customer's formulation, the recipe, and we bring it [into] our own systems and make the product," said Cory Lewis, the company's CEO and co-founder.
INCOG Biopharma opened its doors last year on a $100 million campus stretching across a 16-acre parcel at the northwest corner of Exit 5 Parkway and Cumberland Road, just south of Interstate 69.
It is now in the early days of filling vials, syringes and cartridges with drugs. The company declined to name customers, but contract drug manufacturers typically handle outsourcing from a wide variety of companies, from small biotechs testing new products to huge drugmakers needing additional manufacturing capacity.
Market Study Report LLC projects the $15 billion global injectables industry will grow more than 8% annually through 2027, as the population ages and experiences increasing rates of autoimmune diseases.
Overall, contract drug manufacturing is a booming niche of the global pharmaceutical industry. The sector is projected to grow nearly 60% over seven years, from $98.7 billion in 2018 to $157.7 billion in 2025, according to Grand View Research, a market research firm based in San Francisco.
That's a faster clip than the pharmaceutical industry as a whole, underscoring contract manufacturing's growing role.
The big drugmakers "increasingly use outsourcing services as a means to decrease time to market, save costs, reduce complexity and reallocate internal resources," said a 2019 analysis by PricewaterhouseCoopers.
Officials at INCOG Biopharma hope to capture a significant amount of that business. Today, the facility has one manufacturing line with a capacity of filling 40 million needles, vials and cartridges a year.

Planning for growth
It has room for expansion if business grows. A second manufacturing line, tentatively scheduled to open next year, could fill 100 million units a year.
Lewis said he is confident the company will land enough business to fill up the 90,000-square-foot building. The company also has room to construct additional buildings if needed.
The campus can grow to a total of six filling lines, supported by up to 12 automated packaging and visual inspection lines.
"The first line is just coming on board," Lewis said. "And we're already moving forward on the second line."
The two-story building includes a social hub with free snacks for workers, conference rooms, offices, work cubicles and plenty of undeveloped areas for expansion.
Large drugmakers typically outsource up to 40% of their manufacturing to help save on the cost of building expensive factories and other overhead, and to bring on additional capacity in a hurry when demand surges, Lewis said.
Indianapolis-based drugmaker Eli Lilly and Co., which has dozens of medicines on the market and in the pipeline, declined to say what percentage of its manufacturing it outsources or which drugs are made in-house and which are produced by third parties.
But it acknowledged that it uses contract manufacturers and said they play an important role.
"To ensure we're meeting patient needs around the world now and into the future, we continue to meet with our contract manufacturing partners to enable manufacturing of Lilly medicines," company spokesman Tarsis Lopez said in an email to IBJ.
At the same time, Lilly is spending huge sums to expand its own manufacturing for existing and future products.
The company this week said it will invest an additional $1.6 billion in a drug manufacturing site in Boone County that it announced last year, bringing the total price tag to $3.7 billion, the most the company has ever spent on a single manufacturing site.
It also announced it will spend more than $1 billion on a manufacturing facility in North Carolina and more than 400 million euro on a new manufacturing facility in Ireland.
The drug industry is in a huge growth phase and is bringing a slew of new medicines to market. Since the beginning of 2022, the U.S. Food and Drug Administration has approved about 50 novel drugs that treat a range of diseases, including diabetes, cancer and Alzheimer's disease.
The drugmakers also need to run smaller batches of experimental drugs for clinical trials.
And small biotech companies, which typically have no in-house factories, outsource nearly all their drugs to third-party manufacturers.
All that growth is music to the ears of contract manufacturers such as INCOG Biopharma.
"Maybe a pharmaceutical company has existing facilities, but their pipeline is full," Lewis said. "Do they delay a launch? No, they look for a third party like us."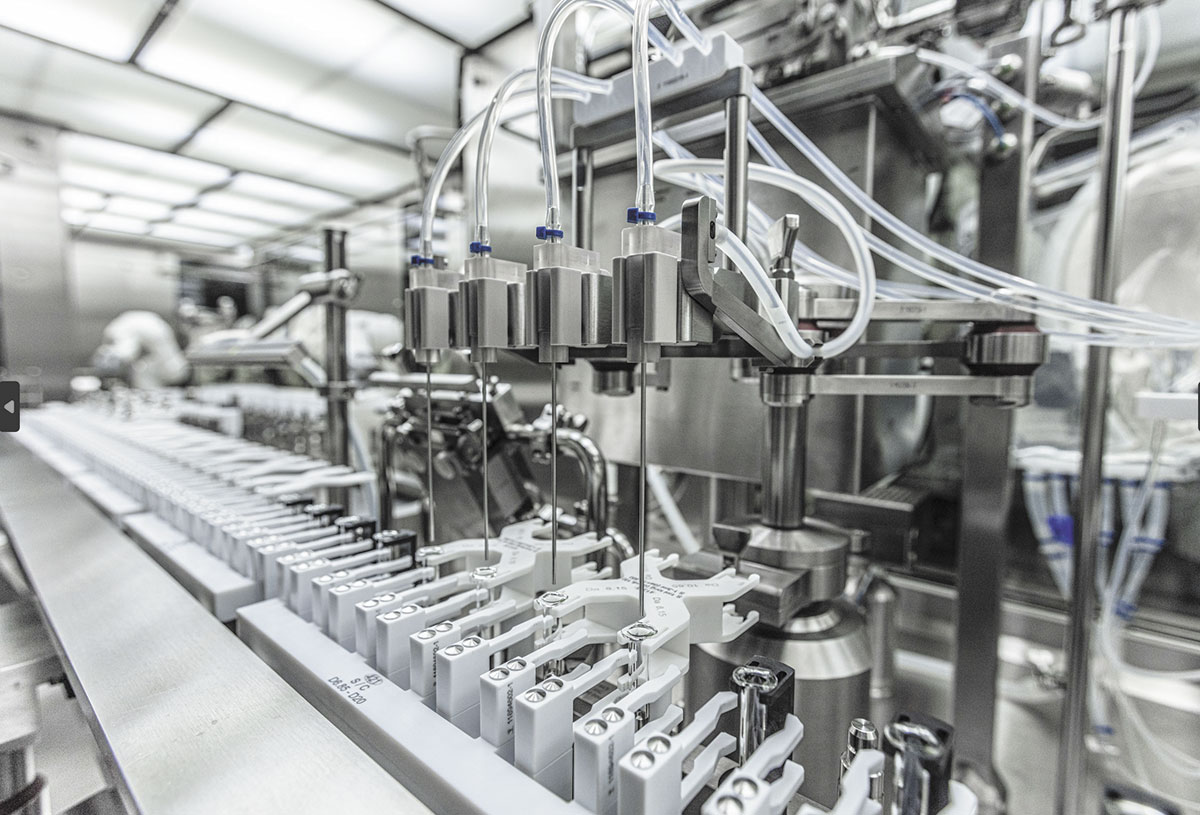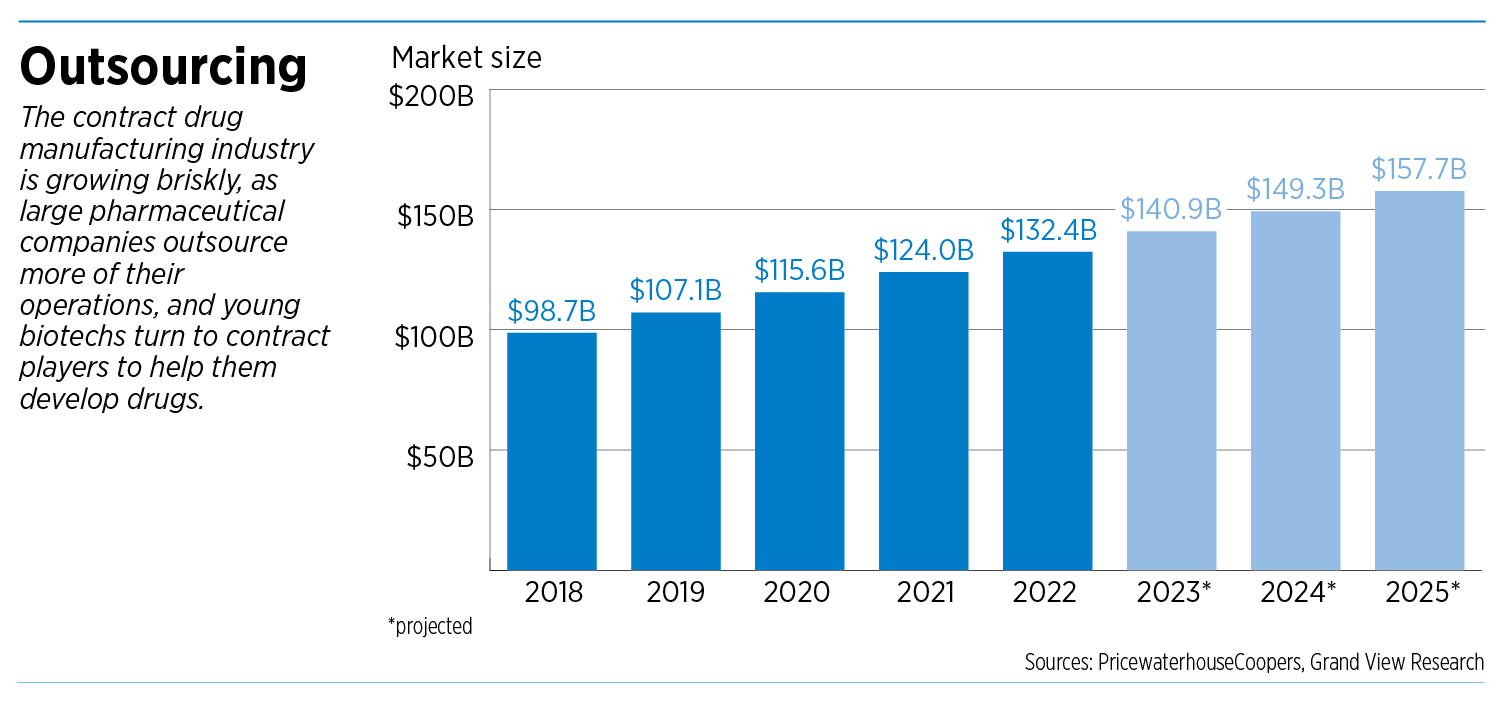 Strong credentials
INCOG Biopharma officials have credentials that can only help land business.
Lewis served from 2009 to 2017 as vice president of business development and marketing for Cook Pharmica, a biopharmaceutical contract manufacturer that was owned by Bloomington-based Cook Group until its 2017 sale to New Jersey-based Catalent Pharma Solutions for $950 million. He held a similar role at Catalent before departing in 2019.
INCOG's co-founder and chief operating officer is Tedd Green, who was president of Cook Pharmica from 2008 to 2017 and spent a year as a Catalent senior vice president.
The company has also landed big incentives to grow. The Indiana Economic Development Corp. has said it will provide INCOG up to $2.5 million in tax credits based on its job-creation plans. The credits are performance-based, meaning the company won't receive them until workers are hired.
The IEDC also will provide up to $200,000 from the Industrial Development Grant Fund to support infrastructure improvements.
The company is ramping up quickly, growing from 62 people at the beginning of this year to 83. It expects to have 150 employees by the end of the year, including production workers, inspectors, lab workers and office administrators. The average annual wage is $83,000.
What INCOG Biopharma does is an intricate job of mixing medicines in large quantities, based on a customer's recipe, and filling thousands of syringes and cartridges in a typical run. It uses large vessels, up to 200 liters, to mix ingredients for hours.
"Then we wheel it over to our fill-in line and start filling 1-milliliter syringes and 2-milliliter vials through this process," Lewis said during a recent tour of the building's clean rooms, labs and inspection rooms.
INCOG Biopharma's specialty, sterile injectable drugs, is in particular demand.
Over the past decade, drug shortages rose to what health agencies called "crisis level," with 251 medically necessary drugs affected. Almost 75% of those drugs were sterile injectable products, according to trade magazine Pharma Manufacturing.
"Among the many factors that contribute to drug shortages, especially when it comes to shortages of sterile injectables, quality and manufacturing issues are the most pervasive," the publication said. "Specifically, syringe inspection has been an historically challenging endeavor."
At INCOG Biopharma, needle inspection is a key part of the process, Lewis said. In one room, workers inspect every syringe that runs through the line, looking for bent needles, cracked glass or particles in the medicine.
Each worker inspects up to 1,000 units a day, a time-consuming, laborious process. But the company plans to speed that up in coming months when it brings in new equipment that will automate the inspection process, allowing it to inspect about 12,000 syringes per hour.
The company also is investing millions of dollars in automated packaging and automated assembly in parts of the manufacturing process.
All that has required a huge amount of fundraising. Lewis said the company has already raised $100 million from private investors, whom he declined to identify.
The company is also in the process of raising an additional $60 million, which will allow it to get a second manufacturing line, bring on some inspection equipment and tackle other upgrades.
Company officials looked at sites in Colorado, Texas, Tennessee and other states before deciding to build in Indiana.
"The management team we wanted to assemble was here," Lewis said. "We've got the industry knowledge to be able to say where we've been and what we're going to do in the future."•
Please enable JavaScript to view this content.